South London campaign to help fill construction shortage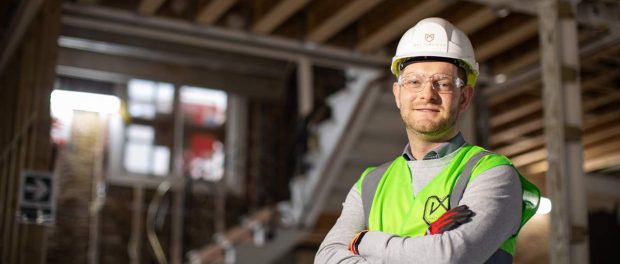 Young people in schools and colleges across South London are being encouraged to consider an apprenticeship in a bid to help fill the shortage in the construction industry.
An initiative has been launched to find more construction apprentices who can help ensure building projects across the city are completed on time. The campaign includes two virtual information events, which are taking place later this month.
Former apprentice Matt Alder is now a Mechanical & Electrical (M&E) Services Manager working with Walter Lilly on a number of their sites across the city. He said that getting work experience before applying for his apprenticeship gave him a clear idea of the career he wanted.
"When I was at school I knew a few other people that went into construction and it seemed like a good career for me," said Matt.

"I did work experience for a week during the last week of school with an electrical company where I ended up doing my apprenticeship. I decided that getting out and learning on the job was a better way forward for me."
Matt studied for an electrical NVQ which included a mixture of on-site learning as well as going to college.
"As the apprentice went on it became more site-based with less time in college," he said. "As well as learning a range of electrical skills I also saw an increase in my ability to communicate and talk to different people at various senior levels. As my apprenticeship progressed I became more responsible and thought about my career and the future I wanted for myself.

"I manage the installation of services on more than one project, and that can include being on-site or sat in a meeting room looking at the drawings and coordinating everything that goes into a job. Anyone thinking of becoming an apprentice should just go for it – you gain the skills you need to do the job, you get paid while you learn and it's a job for life."
The Construction Industry Training Board (CITB) released its annual Construction Skills Network (CSN) report which shows that Greater London needs 22,800 extra workers by 2027 – that means an annual recruitment boost of 4,560.
The initiative by South London Partnership (SLP) is supported by the Mayor of London and highlights the shortage of workers on building sites across the city.
The South London Partnership is a sub-regional collaboration of five London boroughs: Croydon, Kingston upon Thames, Merton, Richmond upon Thames and Sutton. Apprenticeships are available in hundreds of careers including 3D Visualiser, Gas Service Installer, Building Technician and Glazier.
Tutors from a range of backgrounds are also needed to help apprentices achieve the qualifications they need to progress in the construction industry. They will be responsible for providing the support needed for apprentices to develop their technical skills as well as professional attributes such as communication, problem-solving and teamwork abilities.
The virtual events include one for anyone wanting information on becoming a tutor on March 27 at 5pm https://www.eventbrite.com/e/become-a-tutor-in-construction-find-out-more-tickets-576344861997 and one for apprentices on March 30 at 4.30pm https://www.eventbrite.com/e/apprenticeships-in-construction-find-out-more-tickets-576195144187
For more information email: csl@southlondonpartnership.co.uk or visit: http://southlondonpartnership.co.uk/skills/mayors-construction-academy-hub/