New £6.5 million footbridge improves accessibility in Peterborough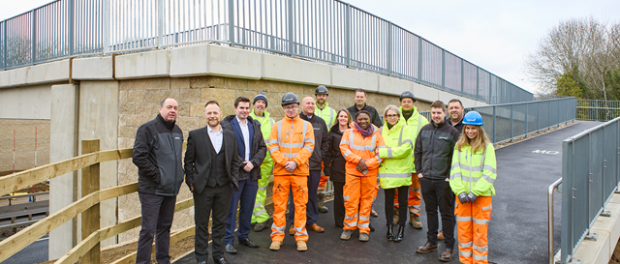 Civil engineering specialist GRAHAM has delivered a new multi-million-pound footbridge in Peterborough, ensuring that members of the public can continue to cross the A47 easily and safely.
GRAHAM was appointed by National Highways, which needed to replace Longthorpe's old bridge as it approached the end of its life. Now operational, the new 30-meter-long structure (which is located just five meters from the site of the old bridge) was designed to be more accessible for cyclists, pedestrians, and wheelchair users.
It was delivered as part of a £250 million package of National Highways projects, geared towards improving safety on the A47 between Peterborough and Great Yarmouth.
To ensure no biodiversity has been lost as a result of the bridge build, four hundred new trees will be planted locally to replace those it was necessary to remove as part of the project. Wood chippings produced were donated to a community garden in nearby Ravensthorpe and wood from pallets, which had been used to deliver materials to the site, were also given to the community garden where a volunteer transformed them into a model of a steam train. This was subsequently donated to a school nursery.
Andrew Harmon, Contracts Manager for GRAHAM, commented:
"We're proud that National Highways appointed GRAHAM to deliver these essential improvements to the major road network. GRAHAM strives to make a difference to communities, and the new footbridge will improve accessibility in the area, making it safer for everyone to cross the A47."
As part of the project, GRAHAM demolished the old arched concrete footbridge, which was built in the 1970s and failed to meet current industry standards. The new structure was constructed whilst keeping the old footbridge open, complete with reinforced containing walls and pre-cast concrete bridge beams. The new bridge also features shallow access ramps for enhanced accessibility, two abutment walls, CFA piling, and a luminated handrail. Its retaining wall contains Lightweight Expanded Clay Aggregate (LECA), a unique, sustainable material.
GRAHAM worked to minimise disruption, managing two full weekend closures, and shutdowns of the A47 for the bridge beam delivery and demolition phase.
The old bridge was kept open for the duration of the works, with a minibus service provided for members of the public. GRAHAM's team could only gain access to the site via the A47, as residents live on either side of the structure.
GRAHAM have programmed works in April and May to carry out improvement works upgrading central reservation vehicle restraint system and streetlighting
Addressing attendees at the bridge opening, Chris Eglinton, National Highways Project Manager for the bridge build, commented:
"This is a fantastic day, and I am delighted for everyone whose hard work and professionalism has got us to this point.

"Improving the major road network and making it safer – including how you cross over it – is what we do. This new bridge will make that much easier. Whether you're on a bike or perhaps pushing a pram, I'm sure people will notice the difference."