Ground-Breaking Ceremony Takes Place at New Sixth Form Building at King Ecgbert School in Sheffield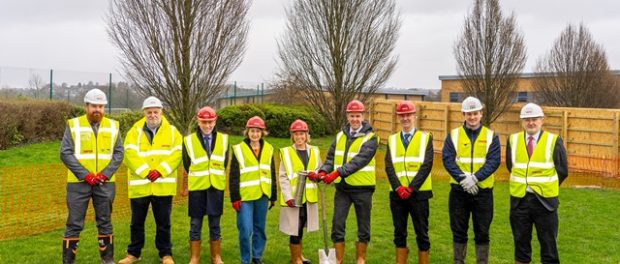 A special ground-breaking event was held to mark the start of construction work by R G Carter on the new sixth form building at King Ecgbert School in Dore, south-west of Sheffield.
Head Teacher Paul Haigh and staff from the school joined representatives from the school's governance and the R G Carter team to celebrate this exciting milestone in the project. A time capsule was also created to commemorate the commencement of the works which will be buried on the site later in project.
By utilising the main school building for students aged 11-16, this one-storey, 1294 m2, building will provide a stunning, new, dedicated modern space for sixth form lessons and studying and is expected to be completed during the academic intake year of 2023.
The new building will house 15 new state of the art classrooms and features a giant wall-to-floor glass study room where students will have access to university standard facilities and technology to support their learning. Designed around the feeling of university study spaces students will have the pleasure of learning in a relaxed, adult environment with stunning views out over the countryside.
King Ecgbert School is a large 11-18 secondary school of around 1,450 students. The sixth form currently accommodates around 380 students; the new building will help increase its total capacity, allowing the school to absorb all current and future catchment needs and allow the school and sixth form to grow. Classed as a 'System Leading School', the school is rated as 'Outstanding' by Ofsted, was awarded World Class School status in 2018 and was voted World Class School of the Year in 2019. King Ecgbert School has a reputation for helping to prepare a high number of students to progress to further education destinations, include Russell Group universities as well as having an inclusive ethos hosting Sheffield's largest Integrated Resource for children on the autistic spectrum. The increase in capacity will only strengthen these offers.
Headteacher Paul Haigh said: "We are delighted to mark the beginning of the construction of our new sixth form building. It has been a huge privilege for me to break the ground today in what will soon be a first-class learning setting and an exciting, inspirational, and creative centre for future lawyers, medics, nurses, sports stars, artists, and teachers."
Tim Owen, Senior Project Manager for R G Carter Lincoln Ltd, said:  "We're extremely proud to be working in partnership with King Ecgbert School, its Multi Academy Trust Leadership team, and Sheffield City Council on this outstanding new sixth form building. Everything about the new building has been designed with the students in mind and to provide an educational space that will not only benefit current pupils but also future generations for many years to come."
Chris French, CEO for the Mercia Learning Trust, said: "It's extremely exciting to finally get the ball rolling on the school's new sixth form building. It will provide pupils with state-of-the-art facilities, modern classrooms and an environment and help provide the space to accommodate all catchment students as they progress through school."
Councillor Mick Rooney and Councillor Dawn Dale, Co-Chairs of the Education, Children and Families Committee, said:  "It's fantastic news to see this work starting at King Ecgbert School which will result in an easing of pressures on school places from September 2023, especially in South-West Sheffield.  It's an excellent example of how King Ecgbert School and Mercia Learning Trust and the council are working in partnership after securing funds from the Department for Education for this project. We have recognised the demand in the school and this new building will mean that pupils can progress through to sixth form and that we can provide high quality integrated resource places for pupils with special educational needs. It's very reassuring to see such progress."
As part of the pre-construction design process students worked closely with HLM Architects and the interior designers to ensure the building reflected their needs and tastes. The student body chose soft colour pallets for the classrooms and thought about every detail, from the wooden flooring, to the quite spaces needed by some of its students with learning difficulties. This ethos will be continued throughout the construction process with Core Architects and the R G Carter site team.
R G Carter Lincoln Ltd secured this project under the YORBuild3 Medium Works Framework. The project is funded by Sheffield City Council.