Qflow Secures £7.2M to Decarbonise Construction Globally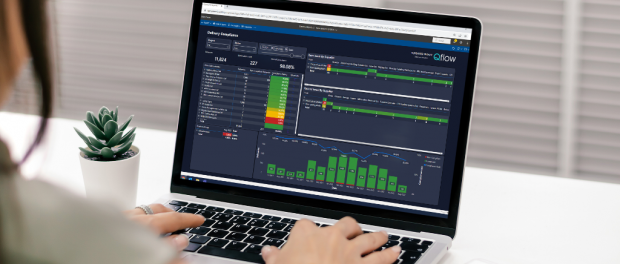 Construction tech scaleup Qflow has closed a £7.2M (~$9.1M USD) Series A  to support  its mission to decarbonise global construction. The funding round was led by Climate Tech VC Systemiq Capital and includes an impressive group of investors across the construction industry and technology. The funding will scale Qflow's operations in the UK and grow its presence in the US and Australia.
Amongst the investors for Qflow's Series A are Ascension Ventures, Bridge Investment Group, Gravel Rd, Greensoil Proptech Ventures, Grosvenor, Vala Capital, Jon Emrey; CEO of Aldar properties and former CEO of Lendlease; MMC, and Suffolk Tech. Qflow has previously raised £2.4M across two seed rounds, with investment from PiLabs, MMC, Goldacre, Entrepreneur First (EF London 10) and angel investors.
The climate focused construction tech company was founded in 2018 by Brittany Harris and Jade Cohen after they met in New York while volunteering for World Merit, a platform for young and collaborative global citizens trying to make a positive impact in the world. Having both started careers in construction, they shared a love of the industry and huge frustrations that came from working in the space. They joined forces to create Qflow with the sole purpose of leaving the world in a better place than they found it.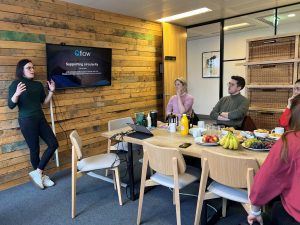 Brittany Harris, Co-Founder & CEO of Qflow, said: "Jade and I love the construction industry, it literally builds the world around us. But for it to build the sustainable future we need, it must change and reduce its negative impacts on our planet. To us, it was clear we had to tackle our own industry to have a chance of leaving this world in a better place, and this is why we founded Qflow. We are thrilled with the investors that have joined us in this round. The support we've received from big players in the sector shows they also see the importance of changing processes and accelerating this transformation towards a more sustainable future."
Construction is the world's most carbon-intensive industry, accounting for 11 percent of global carbon emissions. This is largely to do with the linear way it extracts, refines, transports, builds with, demolishes and disposes of materials. To decarbonise construction, there is a need to turn this linear approach into a circular one. 
Qflow is a digital platform enabling construction teams to collect real-time materials and waste data at the source, enabling project teams to make informed decisions on cost, carbon, and quality. This drives transparency and efficiency that enables cost and quality control and sustainability management. Its unique features and benefits include reducing waste by providing real-time data and analytics; increasing efficiency by automating and digitising a currently manual process; providing transparency over carbon savings; enabling the circular economy; and enhancing performance.
Companies already using Qflow include Berkeley Group, Canary Wharf Group, Grosvenor, Landsec, Morgan Sindall, Multiplex, Workplace Futures and more.
Matthew Goldstein, General Partner at Systemiq Capital, said: "Qflow uniquely aligns the goals of construction CFOs and sustainability executives, accelerating customers' decarbonisation ambitions while saving them time, money, and reducing regulatory risk. We are leading their Series A, at a time when most VCs are scaling back their activities, to accelerate and capitalise on this unique opportunity and critical mission. Further commitment from real estate and construction heavyweights Grosvenor, Bridge Investment Group and others is a testament to the value of Qflow's solution and the work they are doing to transform the industry."
Increased regulation and contractual requirements mean developers and contractors are now required to track, manage and report on their own carbon outputs and material safety, as well as that of their supply chain, to a much higher degree. All this combined with a huge skills shortage and material price inflation means construction teams have to do more with less.
The system is broken. Construction teams rely on the manual collection of thousands of paper tickets from hundreds of suppliers and sub-contractors during construction contracts. These paper tickets are then typed into multiple reporting systems for supplier payments, quality assurance and control, and sustainability reporting taking hours, introducing errors, and resulting in hundreds of thousands of pounds of rework.
Jeremy Ford, Chief Investment Officer at Bridge Ventures and Managing Director at Bridge Investment Group, said: "We're excited to support the solution Qflow provides. As a vertically integrated owner-operator, our in-house team quickly understood Qflow's value proposition. The ability to efficiently incorporate this solution into our business makes this partnership dynamic and strategic."
Andy Doyle, Innovation Director at Grosvenor Property UK, said: "We're delighted to collaborate with the Qflow team both as an investor and as a customer. We see real potential in what this technology can do for the construction sector – it makes the management of deliveries and waste much easier for our onsite teams and provides greater accuracy, and accountability, in our environmental reporting. To create circular supply chains in construction, we must be able to reliably account for what happens with construction waste – Qflow provides this clarity."
Qflow is hiring across commercial and technical roles, hoping to grow its team of 30 by 200 percent by the end of 2024.
For more information go to qualisflow.com