KAT UK Nominated for Triple Crown at the National Fenestration Awards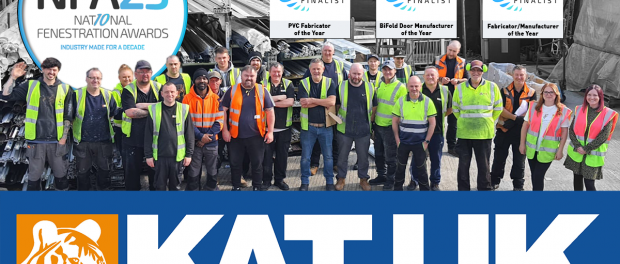 KAT UK, based in Macclesfield, has been nominated as a finalist in three categories at the National Fenestration Awards (NFA). The NFA is the industry's fastest-growing and most inclusive awards event for the fenestration industry, and KAT UK is honored to be nominated finalists in three catorgories for its outstanding achievements.
KAT UK is nominated in the following categories:
Bi-Folding Door Manufacturer of the Year
Fabricator/Manufacturer of the Year
PVC Fabricator of the Year
The judging is carried out by the people in industry as they vote on shortlists in each category based on the nominations submitted. The NFA are the only fenestration industry award built upon the industry itself!
Finalists are voted for on their excellence in innovation, customer service, and quality. KAT UK is a rapidly expanding trade window and door business who is confident that its products and services meet the highest standards, and the company is excited to be in the running for these prestigious awards.
"We are thrilled to be nominated for three NFA awards," said Phil Warren, Managing Director of KAT UK. "This is a testament to the hard work and dedication of our team, who are committed to providing our customers with the highest quality products and services. We are honored to be recognized by our peers in the fenestration industry, and we look forward to the awards ceremony."
The NFA awards ceremony will be held on 28th October at the prestigious Doncaster Racecourse. The winners will be announced at the ceremony, and KAT UK is excited to be a frontrunner in these prestigious awards.