Ibstock Brick uses ShireSystem to embrace preventative maintenance and increase overall equipment effectiveness by 10%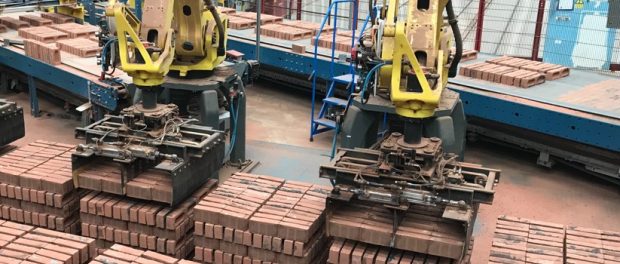 Ibstock Brick, the UK's leading brickmaker and supplier of brick products, is transitioning from a reactive to a planned preventative maintenance model by managing its assets through Building software specialist Elecosoft's ShireSystem CMMS software.
An initial project at one of its 18 factories has already significantly improved overall equipment effectiveness (OEE) and availability.
ShireSystem's key achievements:
Increased OEE by 10% in five months
Increased asset availability by 13% in five months
Standardised processes and captured the knowledge of experienced engineers
Centralised asset data so Ibstock can implement best practices at group level
Improved the management of health and safety documentation
Created intuitive processes for new recruits
Modernising maintenance in a traditional industry
With 18 factories across the UK, Ibstock Brick has a busy operation to maintain. Brickmaking is a machine-intensive process involving heavy engineering equipment, such as box feeders, multiple conveyors and kilns for drying and firing the bricks. Heavy-duty materials also take their toll on its equipment.
Amelia Flynn has been Ibstock Brick's asset management lead since 2018, overseeing a team of eight people who coordinate the maintenance programme for Ibstock's factories.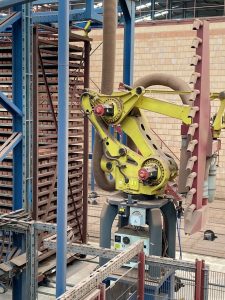 Amelia Flynn, asset management lead, Ibstock Brick, explains, "Working with sand and clay all day means our equipment has a lot of wear and tear. If we don't maintain it properly, we get a lot of breakdowns."
When Amelia first joined the company, there was no formal asset management strategy. Instead, engineers either printed planned maintenance orders (PMs) or inspected machinery ad hoc whenever an issue occurred.
Flynn contunies, "Brickmaking is a very traditional industry. Our technicians are highly skilled, but they store a lot of information in their heads. We needed to capture that knowledge and create processes everyone could follow."
While Ibstock Brick had a basic CMMS solution, it wasn't user-friendly. Also, it could not capture the detail Amelia's team needed to run an efficient multi-site operation. The company needed better CMMS software – and after comparing multiple solutions, it selected ShireSystem.
Aligning maintenance processes with equipment performance
When investing in a new CMMS solution, Ibstock Brick set three clear goals:
Move from a reactive approach to a planned preventative maintenance programme
Analyse maintenance data to make asset management decisions at group level
Integrate stores data to improve the management of spare parts
To meet its first goal, the company used ShireSystem to identify and categorise critical assets. This helped engineers to prioritise preventative maintenance work orders (PMs) based on how necessary the equipment was for production.
The team always aims to work on critical assets during the same shift, but any PMs that can't be completed are logged as a priority job for the next shift.
This new approach has been deployed and tested at Ibstock Brick's Leicester factory, with strong initial results. Engineers work through detailed digital checklists, logging each task in ShireSystem as a pass or fail. Reliability engineers have technically authored and approved all digital checklists to meet industry best practices, documenting inspection requirements in granular detail.
Flynn adds, "Before, we used a run-to-fail approach because we didn't have the data to run a planned preventative maintenance programme. Now, we've put in a proper framework thanks to ShireSystem. Our checklists are much more detailed."
To meet its second and third goals, Ibstock Brick analysed the data collected at its Leicester factory to understand where planned maintenance programmes needed to be tweaked. For example, tasks with significantly higher failure rates than average indicate that checks need to be carried out more frequently.
"If bearings fail every four months, there's no point in planning maintenance activities every six months. ShireSystem allows us to align planned maintenance work with the demands placed on our assets so that we can pre-empt repairs," explains Flynn.
By planning ahead, engineers can minimise the disruption caused by maintenance work, limiting its impact on brick production.
Finding user-friendly CMMS software
Meeting strategic goals was not the only reason Ibstock Brick chose ShireSystem. The company also needed CMMS software that appealed to its engineering team and could be easily accessed while work took place.
Flynn says, "Our team are brilliant engineers, but they're not computer experts. ShireSystem is easy to use, even when people are knee-deep in machines."
This ease of use is due (in part) to ShireSystem's mobile-friendly format. It's not easy for engineers to bring laptops into a manufacturing environment; they need a more convenient way to access PMs and user documentation.
ShireSystem Mobile Pro is a CMMS app that connects maintenance teams to critical information via a smartphone or tablet. As a result, all the information engineers require to do their job is available at their fingertips.
ShireSystem also enables engineers to provide valuable feedback, which Amelia's team uses to make strategic improvements.
"We're using ShireSystem to capture the knowledge, experience and skills of our maintenance teams to develop maintenance plans and optimise critical assets," adds Flynn.
ShireSystem has also shown Ibstock Brick's asset management team the value of moving from a break/fix mindset to planned preventative maintenance. Engineers have more independence to manage their workload while adhering to consistent processes.
The software has been revelatory for Ibstock Brick's engineering managers too, as they now have time to focus on their own workload rather than planning work for their teams.
Flynn explains, "Instead of firefighting, our maintenance teams can plan and complete their work at their own pace. And they haven't got the pressure of 'getting the machine running'  influencing the task they are completing.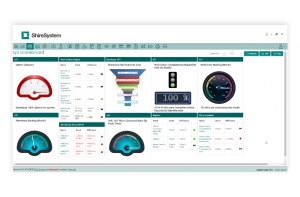 Tracking success through maintenance KPIs
To monitor performance and demonstrate the value of its planned preventative maintenance programme, Ibstock Brick uses ShireSystem to set and track KPIs such as PM completion rates and follow-on work orders. The company also conducts asset maintenance audits each year to maximise the value of its investment and set clear expectations for the future.
Initially, Ibstock Brick's analysis revealed a high level of corrective work. But over time, the process improvements made through ShireSystem have reduced the number of corrections.
Ibstock Brick has also integrated data from other sources to enhance its asset management strategy. For example, all machinery now features asset tags, which record how quickly engineers respond to problems and breakdowns. The company is also cross-referencing CMMS data with production insights, strengthening the bond between maintenance and production.
Improving OEE and equipment availability
Within five months of deploying ShireSystem in its Leicester factory, Ibstock Brick recorded significant improvements to its maintenance metrics. For example:
OEE increased from 46% – 56%
Availability increased from 67% – 81%
Today, OEE is running at 75% – 80%, which is significantly higher than the industry average of 60%.
ShireSystem is driving improvements in other areas, too, such as:
Health and safety: all service reports, statutory inspections and remedial work data are stored centrally and securely to maintain Ibstock Brick's excellent health and safety record. Staff can access this digital audit trail whenever they need information.
Recruitment: the manufacturing sector needs more skilled engineers. By standardising and documenting operating procedures, Ibstock Brick can recruit entry-level engineers that they can develop and upskill.
Best practice: as ShireSystem is rolled out across more Ibstock Brick factories, pooling data from the equipment in each plant will enable Amelia's team to create best practices. For example, they can calculate how often certain assets need to be inspected or the frequency of replacing key parts before they wear out.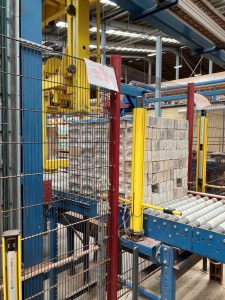 Shaping the future of ShireSystem
Following initial success at its Leicester plant, Ibstock Brick will roll out ShireSystem across all 18 factories and their stores by 2025.
Amelia's team has already created digital asset lists for most factories; the next step is to develop planned preventative maintenance programmes.
Alongside this, Ibstock Brick is training all its engineering and stores staff to use ShireSystem.
Ibstock Brick is also working closely with ShireSystem's technical team to create functionality that will enhance its own maintenance strategy and all ShireSystem customers.
"Whenever we bring an idea to ShireSystem's attention, they work their hardest to incorporate it. It's so refreshing. With other vendors, what you see is what you get. But with ShireSystem, we can help to shape the future direction of the software," concludes Flynn.