Hydrogen Safety: Standards and Technologies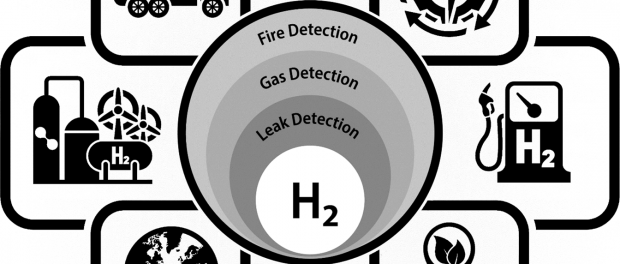 Protecting workers and facilities from dangerous hydrogen gas leaks always starts with understanding the standards and taking measures to comply with them.
For H2 gas, the international standards for explosion protection include IEC 60079 and IEC 80079, as well as specific standards (ISO 22734 and ISO 19880) for hydrogen facilities. You can delve into the specifics of these and other local standards. Suffice it to say, however, that there are many potential hydrogen-related hazards.
Which is why we recommend a layered approach to fire and gas protection. By employing several distinct (yet complementary) technologies, facilities can run the detection gamut, including ultrasonic, conventional gas, and flame.
These technologies may include:
Ultrasonic leak detection: Unaffected by wind or plume direction; ideal for monitoring pressured pipes and vessels
Point gas detection: Well-suited for low and combustible hydrogen levels; options of catalytic or electrochemical, depending on the protection area
Hydrogen flame detection: Best for monitoring infrared (IR) and ultraviolet (UV) radiation; provide a warning to deploy fire suppression and other safety measures
Portable gas detection: Enables workers to access areas where sensors are not installed, such as a confined space
H2 Safety: Strategies for Planning Detection
Earlier we established that hydrogen gas presents exciting commercial and sustainability opportunities, as well as several new and distinctive challenges across the production and distribution chain.
Typically, design, installation, and planning of a layered gas and flame detection system for process industry facilities begins with choosing correct instrumentation for specific potential hazards. It also involves figuring out the particulars, including sensor detection range, mounting, and positioning, field of view, knowledge of lines of sight, and blind spots.
Because hydrogen gas detection and monitoring poses unique safety challenges, organizations entering (or already engaged in) the hydrogen supply chain should seek guidance from a safety partner like MSA. Through our fire and gas mapping solution, MSA offers hydrogen customers a technical assessment based upon recommendations outlined in the ISA TR84.00.07 Technical Report.
MSA's solution delivers: 
Calculated metrics derived through proprietary mapping software
Data-informed mapping report featuring correct placement, scope of gaps in coverage targets, and numerical estimates of detection coverage to increase the likelihood of early detection of hydrogen gas dispersal or fire
Quantitative measure of gas detection needs to complement conventional methods based on coverage calculations
MSA's proven track record is backed by sector-specific insight and expertise, so we can help you learn more about the safety risks and challenges of hydrogen.
Ready to dive deeper into hydrogen best practices, safety measures, and detection technologies? Download our Hydrogen Safety white paper or talk to an expert today.