WALES' FOOTBALL CAPTAIN AARON RAMSEY OPENS LANCER SCOTT'S NEW CARDIFF OFFICE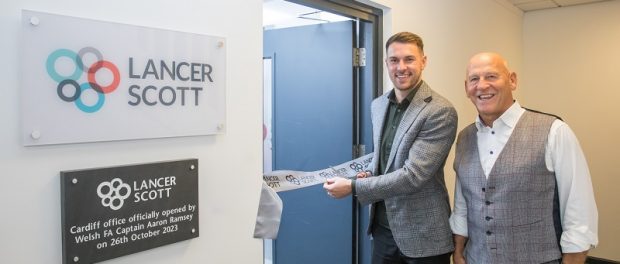 Lancer Scott, the construction and maintenance company, welcomed Wales' football captain Aaron Ramsey to officially open its new Cardiff office.
Aaron was joined at the opening by Lancer Scott CEO Morian Cooke and the Cardiff team, led by Construction West Directors Mike Holt and Darryn Parry. Aaron also took part in a question and answer session during the event.
Lancer Scott has significantly increased its presence in South Wales over the past three years, now retaining 30 full time staff working out of the Cardiff office. A key focus for the new office will be to invest in trainees and apprentices for the wider Lancer Scott group of businesses.
The company chose the Duke Street office because of its central location and ease of access to local public transport as part of its ongoing carbon reduction strategy.
CEO Morian Cooke said: "We are very proud to be opening this new office in central Cardiff today. Cardiff and South Wales has become a key area for us as a group of businesses, both in our construction and facilities management arms.

"Regionally, we are delivering commercial, retail, education, residential and health projects, both in the public and private sector. South Wales is a significant area of growth for us and we see this new larger office as being pivotal to that expansion."

Morian added: "Thanks to the hard work of our team in Wales we are now working with both the Building Safety Fund and Welsh Government in the specialist areas of fire safety and replacement cladding. This has helped the business secure around £70millon of project work.

"The Cardiff office will also be working towards securing Lancer Scott's place on key frameworks in the region, whilst continuing to develop long term relationships with clients and supply chains around Wales."

Aaron Ramsey, who one of Wales' most capped players, said: "As a local boy, it's great to see a company like Lancer Scott moving into Wales and investing time and money into traineeships and apprenticeships for young people here. I wish Lancer Scott all the best for the future."
Lancer Scott has recently restructured, with Lancer Scott Holdings Ltd now being the parent company of Lancer Scott Construction Ltd, Lancer Scott Construction West Ltd and Lancer Scott Facilities Management Ltd. Lancer Scott Holdings Ltd owns 100% of the share capital in its subsidiaries.
The company has seen rapid expansion in the past few years, with its turnover growing from £39million in 2017 to a projected £110 million in 2024.
For more information, visit: https://www.lancerscott.co.uk/.