HOW A 150-MILLION-YEAR-OLD STONE COULD ROCK YOUR WORLD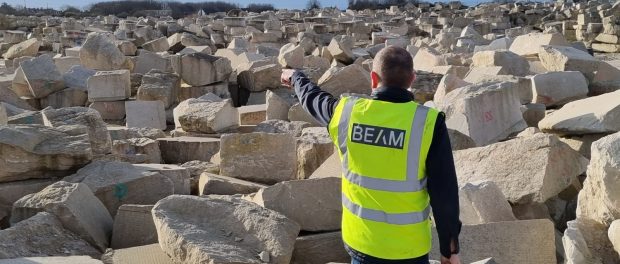 Traditional materials such as Portland stone may have been pushed out of the mainstream by concrete and steel, but nothing beats this natural material, says design and construction specialist Dan Grimshaw.
"It may be old as the hills but is still a viable option for eco-conscious builds and can still play a significant role in an increasingly high-tech industry, says Dan from Beam Development, who has been working on premium residential projects for more than 15 years,
"The mining of stone for building material is a relatively green process because there is no trapped carbon released during extraction. Unlike with some building materials, greenhouse gas emission is limited to the equipment used and does not produce any wastes.
"Stone is a natural building material, free from pollutants that can cause various symptoms among workers in some modern buildings. It doesn't need chemical treatment to make it waterproof, and with the appropriate fixing material, is an environmentally friendly option."
Inspired by the aesthetics of designer Axel Vervoordt, whose work combines contemporary and old materials, Dan personally sourced 2.4m³ block of Portland stone from Dorset to be used as a hearth as part of a restoration project in London's Mayfair.
"This beautiful, ornamental stone is classic but contemporary and its neutral colour allow it to work with a variety of colours and furnishings, and is at home whether in a minimalist apartment or a Georgian town house," added Dan.
"We chose Portland stone for this project, because of its soft grey tones which create a natural, pared back but aesthetic look that fits with the feel of the house, and that can be cut easily and shaped into various sizes and designs."
Portland stone is used extensively in some of Britain's most notable structures from St Paul's Cathedral to the Apple store on London's Regent Street, and continues to be used in homes today, particularly for fireplaces, staircases, and flooring.
When it came to choosing the right stone, Dan, along with architect Reginald Verspreeùwen from RV Architecture, visited Albion Stone on the Isle of Portland to identify the bed and cut they were looking for and then set about finding a block of a suitable size.
"We spent two or three amazing hours – like kids in a sweet shop – looking at all the different stones, before hitting upon a 1.2 tonne piece of premium quality, fine grain basebed stone that ticked all the boxes."
The Portland stone hearth which will be the centre piece of a two-storey atrium with a biofuel heater and chimney stack above, is set to be marked and cut and then transported to Mayfair where it will be lowered into place.
Portland stone is a limestone formed from the slow compaction of calcium carbonate and organic seafloor matter, like shell fragments, deposited during the late Jurassic period when the UK was situated in a more sub-tropical latitude.
Dan Grimshaw is a design and construction specialist based in Bath and London. He is a mentor to the British Library's prestigious Innovating for Growth programme and is a jury member for the BLT Built Design Awards. 
For further information visit: www.beamdevelopment.co.uk