Flexible, comfortable and controlled: Meet swiss air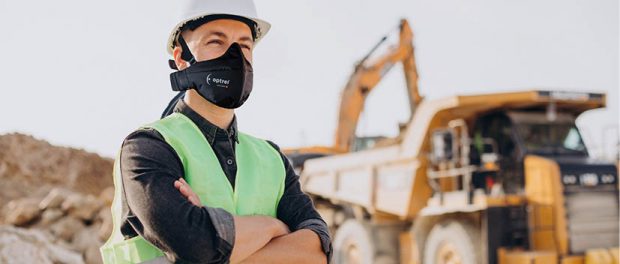 Safety doesn't have to mean discomfort: The core element of the optrel swiss air blower respiratory protection system is a ventilated half mask that completely covers the mouth and nose area and supplies purified air. The purified air is delivered via a Y-hose from a miniaturised blower system, which sits comfortably on a carrying unit worn on the back.
TH3 certified lightweight
The 550 g light weighted blower respiratory protection system with protection level TH3 filters 99.98% of all particulate matter from the air, blocking out aerosols, smoke, particles and viruses. The ventilated half mask completely covers the mouth and nose area. Thanks to the positive air pressure system, it is also suitable for users with beards. The positive air pressure also makes it easier to breathe, preventing users from feeling fatigued. With a battery life of 14 hours, swiss air can keep providing protection for a full working day.
Everything under control
The respiratory protection system from swiss air features a control panel. This is securely positioned on the chest piece of the shoulder harness for easy access, so that users always have full control of the functions of the blower respirator. These functions include filter contamination and battery charge status monitoring, infinitely variable air flow control and on/off switch. The altitude and temperature compensation is automatic – so no matter whether the air becomes thicker and the temperatures rise (or vice versa), swiss air always ensures the right volume of air.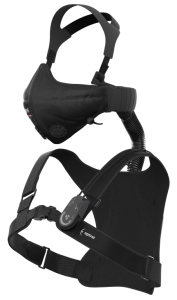 Maximum comfort with no need for face fit tests
Made of flame-retardant fabric, the half mask is designed to provide an excellent custom fit thanks to a fully adjustable headband. It allows swiss air to adapt to any size from XS through to XL. This eliminates the need for time-consuming fit tests, which are common practice with conventional half masks. And, because we know every millimetre counts, the blower system measures only 48 mm in thickness and the carrying unit is ergonomically fitted to the back, so users can get through even the smallest openings.
Compatible with all common helmets, ear defenders and goggles
The swiss air half mask gives users all the freedom they need. It's a flexible choice that can be combined with any protective headgear, hearing protection or protective eyewear. This is an unparalleled feature of swiss air, making it suitable for use in all applications where respiratory protection is required or recommended.
Welcome to the Swiss Alps, welcome to optrel swiss air.
swiss air is the revolutionary respiratory protection system from optrel and is testament to everything the company represents: The Swiss manufacturer of respiratory protection and automatic welding helmets is committed to delivering unique benefits in its products. That's why around one quarter of the optrel team is dedicated to continuously researching and developing innovations that make everyday work in machining industries easier. With swiss air, users live and breathe innovation.