Builders' charity expands counselling service in a bid to halt the rising suicide rate amongst UK construction industry workers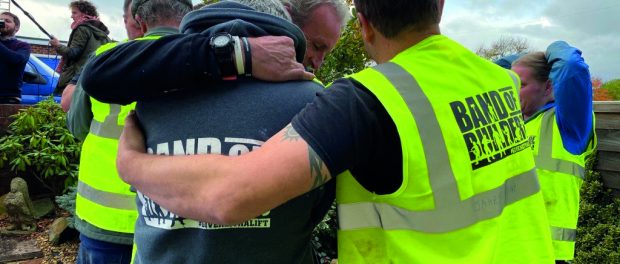 A national builders' charity has expanded the support it offers to tradespeople after figures indicated that the suicide rate amongst construction workers in the UK has increased for the fifth year in a row.
Figures from the team at Glasgow Caledonian University's (GCU) Built Environment Asset Management (BEAM) Centre – in conjunction with the Lighthouse Construction Industry Charity – found that the suicide rate for construction occupations in 2021 rose to 33.82 per 100,000. This figure has risen steadily from 25.52 per 100,000 in 2015 when the figures were first compiled.
In a bid to tackle the mental health crisis in the UK construction industry, a new free mental health and wellbeing platform has been launched that construction workers or their immediately families can use at any time to get help – thanks to the Big Brew, a campaign organised by Band of Builders (BoB).
The Big Brew is funding a partnership with Spectrum.Life, which will encourage tradespeople who are experiencing anxiety, depression, loneliness, relationship issues, self-harm, suicidal thoughts or any other trauma to take the all-important first step of seeking help.
Tradespeople can self-refer at any time through the charity's website and receive confidential counselling via freephone, live chat, WhatsApp, SMS or a call back.
Peter Cape, Big Brew lead at BoB – which was founded in 2016 to help members of the UK construction industry who are battling illness or injury through the completion of practical projects carried out by volunteers – said the charity has been compelled to increase the provision it offers in a bid to turn the tide of the mental health crisis in the construction industry.
"The BEAM data is distressing – especially when you compare it to all other professions, where the suicide rate is 9.14 per 100,000," said Mr Cape.

"Band of Builders has a very active community of nearly 50,000 tradespeople across the UK, and they share so many heart-breaking stories of people who have been lost, are facing some very serious situations or are generally struggling. That's why the Big Brew came about: to raise awareness of the mental health crisis.

"As well as throwing the spotlight on the issue, we have been able to fundraise to introduce services including a dedicated text service where construction workers can text BOB to 85258. This has proved to be an important lifeline for the construction industry.

"We also introduced a counselling service last year – but we recognised that we could offer more, and the new partnership with Spectrum.Life means we can offer a much broader level of support."
The new Volunteer Assistance Programme has been designed to support people who find themselves struggling with issues including depression, anxiety, stress, addiction, relationship and marital problems, and financial issues.
The platform offers counselling, legal information, financial information, consumer information, career guidance, life coaching, mediation, health information, cancer support, autism support, elderly care support and parent coaching.
Mr Cape added that making increased mental health and wellbeing provision available for the UK construction industry is an important step forward in trying to help people manage mental health issues now so that they don't escalate further.
"When we launched our counselling service last year, it was a proud moment for the Big Brew and BoB – but we quickly realised that counselling alone was not enough," he said.

"Since then, we have looked at ways to improve the service by providing a more holistic approach because it's important that people are able to get interventions earlier or address some of the issues that are contributing towards their mental health issues.

"It's best summed up by the old tradesperson's van analogy: if the van is serviced on a regular basis, then it will be reliable and go on for miles, but if it's not serviced, then the chances of it breaking down increase."
The new platform service can be accessed from https://bandofbuilders.org/pages/wellbeing-support  and clicking the Wellbeing Service, where there is more information about the service and a self-referral form. There is also signposting information for people in immediate crisis.