Sisk breaks ground on new £300M gem of Birmingham's Jewellery Quarter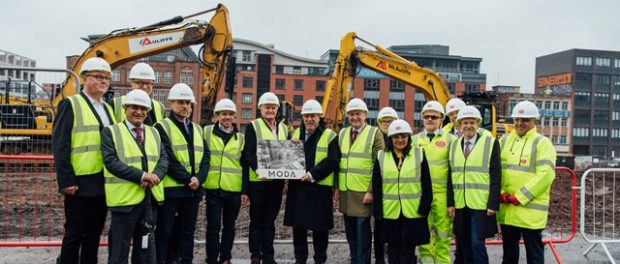 John Sisk & Son (Sisk) and Moda Living, one of the UK's leading developers and operators of rental communities, has broken ground on a pioneering new rental neighbourhood in Birmingham, beginning the transformation of a site left undeveloped for more than 70 years.
Redeveloping the Ludgate Hill Carpark, the £302m Great Charles Street neighbourhood will be situated in the city's famous Jewellery Quarter offering 722 best-in-class new rental homes across four blocks spanning 6 to 39 stories, with breathtaking views across the city. The neighbourhood will be delivered by Sisk, who were responsible for the successful delivery of 481-home neighbourhood Moda, The Mercian on Broad Street.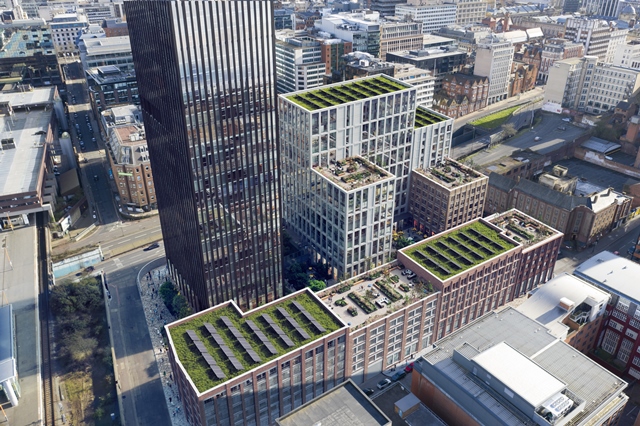 Designed in partnership with the nationally acclaimed Ryder Architecture, Great Charles Street will include state-of-the-art amenities including a 24/7 gym fitness centre and concierge, private dining rooms, co-working areas, resident sky lounges, roof terraces, cinema rooms and more. The neighbourhood will also feature new landscaped green spaces and public realm, as well as community amenities including , shops and cafes. Great Charles Street will target leading ESG certifications, following in the footsteps of Moda, The Mercian on Broad Street which was the first residential building in Birmingham to secure three-star Fitwel accreditation, and uses certified 100% renewable electricity.
Delivery of the new project will add an estimated £92m of gross added value to the West Midlands, creating around 470 new construction jobs. Moda and Sisk will continue their successful Skills Hub partnership with the West Midlands Combined Authority (WMCA) which is already helping to maximise local employment and training opportunities across the West Midlands.
This partnership, spear-headed with Mayor of the West Midlands Andy Street, established a training hub during the building of Moda Living's The Mercian neighbourhood and has been operating since 2018. The hub has already supported more than 80,000 hours of work and 140 employment opportunities specifically for local people – including seven apprenticeships – by offering construction training and a guaranteed job interview after completing a 20-day course.
By the end of Moda Great Charles Street's construction, Sisk estimate that at least another 240,000 hours will have been completed by local people, from apprentices to graduates, reinforcing Moda Living and Sisk's commitment to Birmingham.
The beginning of work on Great Charles Street was marked with a special ceremony attended by Birmingham City Council, West Midlands Mayor Andy Street and other key stakeholders.
The £302m neighbourhood has been backed by the largest deal for a build-to-rent project seen outside of London, with funding from Harrison Street, NFU Mutual and Apache Capital and a £188m development loan from Precede.
Alan Rodger, Managing Director, John Sisk & Son, said:
"Sisk is delighted to begin works with Moda Living on its Great Charles Street development. Our enduring relationship with Moda Living is founded on our capabilities and relevant experience in the high-rise residential sector across Birmingham and other major cities in the UK. The project will create a landmark entrance to the city centre and provides us with the opportunity to build upon our work with Birmingham City Council, the West Midlands Combined Authority (WMCA) and our trusted Supply Chain to create training, jobs, and quality accommodation for the people of the West Midlands."
Andy Street, the Mayor of the West Midlands, said:
"It is so exciting to see the bomb site finally being developed after being left untouched since the Second World War. This will remove one of the blots on the city's landscape, and continue the quite incredible transformation of the city centre. "It is great too to not only see Moda Living and Sisk partner again after their efforts at The Mercian, but also to see they remain committed to working with us to continue our training programme together to ensure local employment is maximised through this development. "Best of luck to the team, and I can't wait to watch this project grow up from the ground."
Tony Brooks, Managing Director at Moda said:
"Breaking ground on our second development in Birmingham is a huge milestone for us. The city is going through an exciting evolution and we're proud to be part of its transforming skyline, as well as creating impact for the local jobs and skills market – it's something we've been committed to since 2018 and will continue doing so for many years to come."

"The journey to starting work on this key central site has been a huge exercise in collaboration with Birmingham City Council, and I'm confident the result will be testament to what can be achieved when the public and private sectors work in true partnership. I look forward to continuing to work with the council, Sisk and our other stakeholders to deliver this new gem of a neighbourhood to the Jewellery Quarter."
Birmingham City Council Leader, Councillor Ian Ward, also commented:
"The breaking of ground at the Ludgate Hill Car Park site opens another exciting chapter in Birmingham's ongoing transformation, underlining our growing reputation as a place to live, work and invest. This is very much a team effort and we are delighted to be working with Moda Living and Sisk to ensure that the people and businesses of Birmingham benefit from our ongoing success."