Final phase of Hinkley Point C's offshore work begins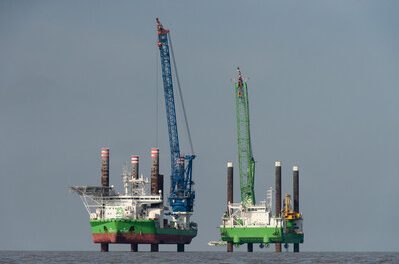 Two huge jack-up vessels have arrived off the coast of Hinkley Point C in Somerset, as the offshore work moves into its final stages.
The vessels, named "Neptune" and "Sea Challenger", will be used to install vital components for the power station's cooling water system.
Six vertical shafts will be installed at a depth of more than 20-metres, marking the next stage in connecting the six miles of tunnels with the seabed.
Once installed, miners will dig a horizontal connection between the bottom of the shaft and the tunnel. This is the first part of linking the intake and outfall heads with the tunnels. These 5,000-tonne structures were lowered onto the seabed last summer and will circulate water to the two nuclear reactors.
Often used to build offshore wind farms, the platforms' cranes have a combined lifting capacity of 1,500 tonnes. At 132m, the "Sea Challenger" is longer than a football pitch, and "Neptune" is 60m long.
Each vessel uses its four "legs" to elevate itself above sea level – so it can operate safely without being impacted by waves and currents.
Jonathan Smith, Area Delivery Director, said:
"This is one of the final stages of our offshore operations, which will see teams from EDF, Balfour Beatty and New Wave Solutions working together to deliver yet another incredible feat of engineering. The cooling water system is critical to the power station – which will help Britain fight climate change and achieve stronger energy security."
Roger Frost, Balfour Beatty Project Director, said:
"The arrival of Neptune and Sea Challenger marks another significant step forward in the successful delivery of the first new nuclear power station in the UK for over 20 years.

"We now look forward to utilising our unique capability and unrivalled expertise to continue with the linking up of the six miles of tunnels which are buried below the Bristol Channel – this is another important chapter in the offshore works required for Hinkley Point C's critical water-cooling system."


Work to install the shafts will continue into the Autumn.