Amey supports home learning and skills development with laptop donations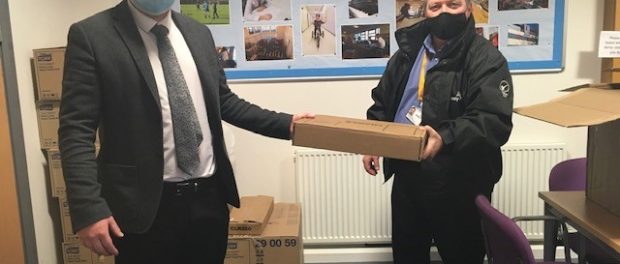 Leading provider of critical facilities management (FM) services to the public sector, Amey, has donated over 75 laptops to 25 schools it maintains as part of its Bradford, Barnsley and Clackmannanshire contracts. The donation aims to provide additional support to children who are learning from home during, and post lockdown.
The coronavirus pandemic has had a dramatic impact on the way children and young people can access education. It has highlighted that not every family has the technology or resources to access online education and support. To help bridge this gap, Amey has donated laptops to schools in Clackmannanshire, Bradford and Barnsley to help address digital inequality and inclusion.
Funds generated from the sale of old IT equipment on the Amey Defence contract were used to purchase the laptops and the Microsoft Office operating licence. A further donation was made using re-conditioned machines from Amey operations.
Schools have already taken delivery of their laptops to help support children with their leaning. The donated laptops will let pupils keep in touch with their teachers during their time away from classes.
Even with schools retuning to the classroom imminently the stop-start nature caused by self-isolation means they will still need the computers for home learning and beyond to support access to education resources.
Andy Voase, Director of FM, Amey Secure Infrastructure, said: "As we all know, access to education is a key factor in addressing social mobility and ensuring young people can fulfil their potential. At Amey, we want to give everyone the best opportunity to succeed, but the stop-start to education due the pandemic has meant that technology to learn from home is vital. Children without access to a computer are missing out so the donation of these laptops will go some way to helping bridge that gap and support them with their education."
In addition to the donated laptops, Amey has also been helping inspire the next generation via their Education Hub, virtual work experience placements and Chat and Learn sessions which give young people, teachers and parents access to learning resources and the opportunity to find out more about the work of Amey first-hand from those delivering the day job.