Accelerating the rate of change in construction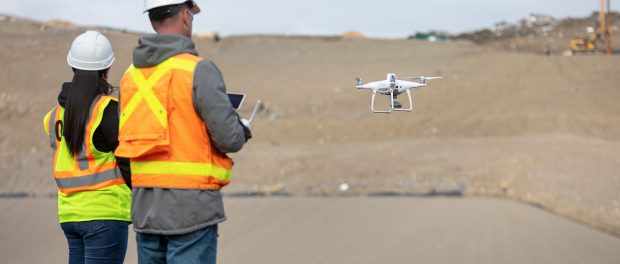 Construction is the largest industry in the world making up more than 13 percent of GDP globally. Despite its prevalence, it has historically been one of the slowest growing industries, however an explosion in construction technologies will speed up this rate of change globally.
Senior Komatsu engineer Richard Clement has taken the reins as Deputy General Manager of the Smart Construction brand at the firm as he leads the rollout of digital solutions to a wide customer base. The industry has historically fallen behind other sectors when it comes to digital transformation.
He outlines his top five ways the sector can look to improve productivity in the coming years by adopting technological advancements and maximising the potential that digital processes bring to construction.
Allowing and embracing change … particularly in earthworks
As the UK moves towards digital transformation, we in the construction industry must tackle one of our biggest challenges: the introduction and implementation of digital technology. There is a huge opportunity here for us to revisit the way we think about the modern-day construction site, as with improved digitisation comes more efficient processes and the ability to make decisions with precise information derived from actual construction data. This increases productivity for the team on the ground and has a huge impact on the way we work as an industry, and in particular the business of earthworks, which is essential to all construction methods.
The bottom line 
In terms of construction preparation, contractors often see costs lost during the earthworks phase, giving us a key pressure point to tackle and improve through digital solutions.  Completion of earthworks on time, on budget and to specification is key to the success of any subsequent construction. More than that, accurate and precise data is crucial  to project completion to a premium standard, as the precedence set by the early stages of construction planning allows for more precision down the line as concrete is laid.
Many of these changes can be implemented into current construction practices to optimise every stage of the construction process, from groundworks to delivery. We're already seeing the introduction of digital technologies across the industry, but what we need to encourage is their optimisation and our ability to reach the potential that these changes instil. This in turn will enable us as an industry to reap the subsequent benefits.
Increasing productivity
Because of current delays in information creation and monitoring, time is often wasted at the job site while decisions are processed and relayed. Utilising technology will increase the speed, and accuracy, in which information from the site to office and the response is relayed, aiding informed decision making and negating the need for excessive commuting and communication.
Consume less fuel… and reduce unnecessary emissions
With the cost of fuel still a huge challenge, contractors face a renewed obstacle for cost saving.  Fuel economy is an essential component of an efficient operation. By streamlining payload and utilising technology to make optimal recommendations for efficiency, we can ensure less fuel is consumed by machinery as well as reducing mileage on site visits.
Not only this, but there is plenty of scope within earthworks to reduce emissions, as a natural partner to consuming less fuel. A longer term activity is to introduce and rely on more alternative fuel sources across the board – but we can feed into this process by reducing idle times for fleet machinery, as well as ensuring that the machines we employ are the optimal choices for moving the material required in the most efficient way possible.
Recruitment and upskilling
By improving digital capacity and ability, the construction sector will attract more talent and retain skilled members of the workforce. This perspective shift to the focus on digital is an obstacle in itself as construction faces a faster-ageing workforce than many other sectors, with employees aged over 60 growing more rapidly than any other age group according to the CIOB.
Richard Clement is the deputy general manager of Smart Construction. To learn more about Smart Construction solutions and to book a consultation, please visit https://smartconstruction.io/