McLaughlin & Harvey is delighted to announce trainee engineer Christy Dickson has picked up the coveted CECA Scotland's Most Promising Apprentice 2023 award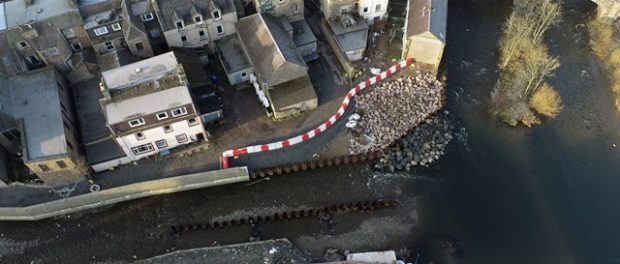 Developing the engineering stars of tomorrow is part of the ethos at McLaughlin & Harvey, with the company committed to ensuring 5% of the workforce is made up of apprentices, students and graduates on formalised training schemes. Christy Dickson is clearly making his mark in that 5% having joined McLaughlin & Harvey in 2019.  Initially gaining experience with the team at the Bushmills Distillery Offsite Maturation Facility site followed by a brief spell with the estimating department, he then joined the Hawick Flood Protection Scheme which has been a focal point of his work since September 2020. Despite balancing working away from home on challenging projects and the impacts of Covid, Christy sailed through his Higher Level Apprenticeship (HLA) Foundation course and moved straight onto the HLA in Civil Engineering. He is currently in his second year and attends university every Thursday during term time.
Always willing to help encourage more people into the industry, Christy has frequently put himself forward to take on the additional responsibilities of mentoring and supervising young people or work-returners brought on-site for work experience, site visits or work placements. In 2022, Christy helped guide eight S3 girl pupils from Hawick High School on-site as part of the CECA Scotland endorsed What-IF programme. Upon completion, the S3 girls were keen to explore opportunities in construction, with each offering compliments to and of Christy.
Robin Erskine, Senior Contracts Manager at McLaughlin & Harvey, said "I have had the opportunity to work with Christy at the Hawick FPS for the past two and a half years and I'm very proud of how he has developed into a very competent young engineer. From day one, he has shown a real willingness and eagerness to learn and advance his knowledge in civil engineering. His attitude, dedication and work ethic are exemplary. He works every other weekend on-site in Hawick due to his mid-week college day commitments back in Belfast. He has an excellent relationship with his peers, colleagues, subcontractors and client team, and I am delighted that he has picked up CECA Scotland's Most Promising Apprentice award – thoroughly deserved."
Commenting on his award win, Christy Dickson said: "I am very honoured to have won this year's CECA Scotland award for Most Promising Apprentice. I cannot thank Seamus Devlin and the team at McLaughlin & Harvey Ltd enough for all the training, support and opportunities they have given me. As well as my family and friends who have helped guide me throughout these early stages in my career as a Civil Engineer."
Christy received the award at the annual CECA Awards Dinner, held at the Doubletree by Hilton in Glasgow at the end of March.