A construction boss turned storyteller is building a career in 'lyrical marketing' after turning to poetry in lockdown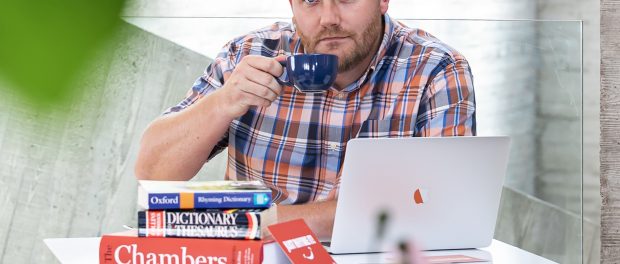 Originally from Crewe, Gareth Williams launched Rhymeology in the pandemic and has already written for a host of private and public sector clients, including the NHS, the BBC, Avanti West Coast, Cheshire East Council and even the Jamaican Tourist Board.
Now based in Conwy, Gareth's unique and emotive narrative has also won heart and minds via his work with dementia and ADHD charities, live events, and memory capture workshops, attracting the readers and listeners far and wide.
His individual, creative approach is fast becoming the must-have communication tool for multiple sectors in North Wales, the North West and beyond.
The dad-of-two says the last year has been a whirlwind, and as his popularity rises the opportunity to use impactful rhythmic 'street' poetry as a force for positivity will continue to grow.
"The response I've had since the start has been heartening, it's been some journey already," said Gareth, who lives in the walled town with wife Rachel, and their children Harry and Jacob.

"I have always loved words but didn't grow up writing poetry, it was in lockdown I produced my first – An Opportunity for Community – and from there I really had the bug.

"I began writing more and produced a book of street poetry – Stories from Crewe and Nantwich – and began using it to promote and celebrate work in my community, which is where the interest grew."
He added:
"To this point I'm creating what I term 'lyrical marketing' and working with many different organisations to get their message across in a contemporary yet traditional way.

"We do it in collaboration or I do it alone, inspired by their brand and brief, and the results have been so positive, I get a real buzz from seeing the reaction on people's faces."
To have already secured commissions from HS2, Crewe Railway Station and for the NHS's 75th anniversary – which became powerful audio and video campaigns – was a huge step for Gareth and led to other work focused on localism and reality, real people, and their lives.
His award-winning business Construction Linx has been running for almost two decades, but Gareth is focused on touching lives and generating attention for customers with what is so much more than a hobby, it's his passion.
With his orange shoes – he really does have poetry in his sole – and infectious personality, the 42 year-old has already worked on a series of dream projects, and there are more in the pipeline.
"It was especially humbling as a local lad to be asked to help celebrate 185 years of Crewe Railway Station, as someone born and bred in the town that was an honour, and I hope to be able to work on similar campaigns in Wales and further afield," said Gareth.

"The poems have managed to capture people's attention and emotions, with a cool twist, and they do so in a matter of minutes, or seconds, which is why more people are turning to it as a way of getting their message across.

"From international conferences to sitting in a room with a handful of people battling dementia and seeing the joy in their eyes when we produce poems together over a brew and biscuits, it's all been an absolute joy and I can't wait to see where it takes me next."
With thousands of people watching his videos on YouTube, the answer is up and up.
He is using myriad mediums to connect with readers and listeners and reaping the rewards.
"It's quite incredible and unreal, I sometimes pinch myself to be doing what I'm doing after such a short space of time," said Gareth.
He added:
"Poetry has been around since the beginning of time, but how often do we read them? Most people only come across poems at weddings and funerals these days.

"Rhymeology is bringing it back to the masses, using words in an inspiring and engaging way to tell a story, celebrate a landmark, sell a product and far more. It is effective and I hope more people and businesses get in touch to find out how it can help them."
For more information, visit the website www.rhymeology.co.uk and follow The Rhymeologist on social media. Alternatively, gareth@rhymeology.co.uk