Woodhead sets gold standard with highest ever CSR accreditation score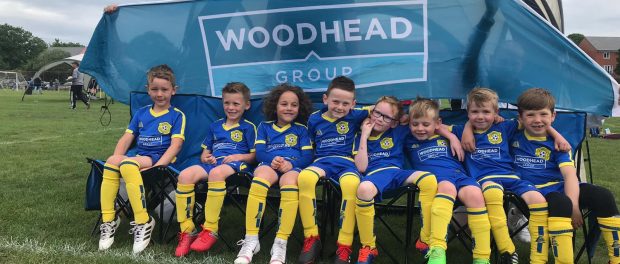 WOODHEAD Group has received the highest-ever score ever awarded by CSR Accreditation for their ongoing dedication to corporate social responsibility.
The award-winning construction, development and property management company received an outstanding score of 92%, qualifying them for not only a gold accreditation, but surpassing the previous record score.
The CSR Accreditation recognises businesses that commit themselves to providing the most sustainable and ethical practices possible, analysing the impact an organisation has on employees, suppliers, clients and communities at large and locally.
The prestigious accreditation acknowledges Woodhead's steadfast commitment to social, economic and environmental causes across the company over four assessment areas; employment skills training, enhancing and safeguarding the environment, investing in local economies and managing health safety and wellbeing practices.
Commenting on the success of the accreditation, Matt Bust, business support manager at Woodhead Group said: "We are absolutely delighted to be recognised so highly by the CSR Accreditation board. Corporate social responsibility is and always will be at the heart of everything we do as a company.
"It's our commitment to ensure that we're upholding the highest standards and delivering the best economic, environmental and social care to our clients and employees and we're thrilled that our hard work has been so highly commended."
Woodhead Group is already accredited with ISO 14001 Environmental and Management System (EMS), a framework to help manage environmental impacts of an organisation's products. The firm are also working through the Building to Inspire a Generation (B.I.G) initiative to support and inspire young people to develop a career in the construction industry.
Richard Collins, co-founder and panel member at CSR Accreditation, said: "From a CSR Accreditation perspective it is quite an accomplishment when an organisation achieves a CSR Gold Accreditation.
"We were delighted to find that Woodhead Group had done exactly that. Our independent CSR Accreditation Assessment Panel all agreed that this application delivered impressive CSR activity across all of the CSR four pillars of Environment, Workplace, Community and Philanthropy."
The company has invested a further £350,000 into development and training staff and apprentices as well as in-house trainer.
For more information about Woodhead Group, please visit woodhead-group.co.uk or join the conversation @WoodheadGroup.