Willmott Dixon boosts infrastructure workload with prime role in Darlington Station overhaul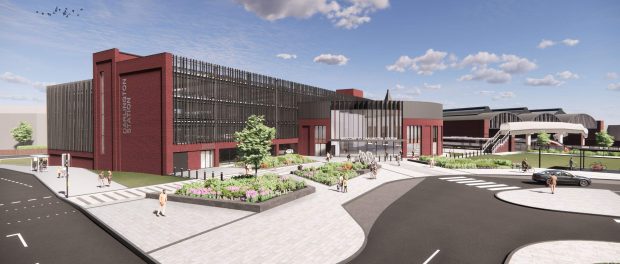 Willmott Dixon has landed a £30m contract from Tees Valley Combined Authority to transform the entrance to Darlington Station as part of Network Rail's £140m masterplan to deliver extra train capacity and better passenger facilities at the station.
Willmott Dixon's work on the huge overhaul of Darlington Station also includes a new multi-storey car park integrated within the bigger entrance area that is the station's gateway to the town. Network Rail will start work later this summer on creating two new platforms to improve rail connections both within the Tees Valley and beyond via the East Coast Main Line
Tees Valley Mayor Mayor Houchen said: "With hundreds of Government jobs coming to Darlington, the town and its people deserve a modern and vibrant station to provide a gateway to the rest of the great developments on their way. This is another significant milestone and I'm thrilled the station project is steaming ahead."
The station overhaul will be completed in 2025 in time for the Stockton and Darlington Railway bicentennial celebrations. The station project has been primed with £33million from the Tees Valley Combined Authority and Tees Valley Mayor Ben Houchen alongside more than £100million in Government funding so far.
Cllr Stephen Harker, Leader of Darlington Borough Council and Tees Valley Combined Authority Cabinet Member, said: "I am delighted that work is progressing on this project to transform the station to improve access to Darlington for business and leisure travellers. It will also create much better access into the wider Tees Valley.  Upgrading the station will allow us to continue attracting investment to Darlington."
Willmott Dixon is behind several major infrastructure developments, including the Stockport Interchange, Halifax bus station and North Tyneside Transport Interchange.
In Darlington, the company is working with Napper Architects and F&G as QS. Nick Corrigan, North East director for Willmott Dixon, said: "We're proud to say that, as well as creating a vibrant and transformative new gateway into Darlington, the station development really will be changing lives and creating opportunities for local people. In addition to new local jobs, apprenticeships and training weeks, in partnership with Tees Valley Combined Authority, we are creating employment opportunities for local people facing barriers to work through our dedicated Building Lives Academy programme.
"Over the coming months, we will be working with the likes of Darlington Borough Council's Youth Employment Initiative and Aycliffe Secure Centre, to deliver Building Lives Academies for local young people who are not in education, employment or training. This is a project for the people of Darlington, built by the people of Darlington and we're committed to spending £12m with local supply chain businesses."
This is the latest project for Willmott Dixon in Darlington. The company is currently transforming the Darlington Railway museum into a cutting-edge tourist attraction and also building Innovation Central as a specialist office and laboratory space for Darlington's SMEs.  Previously, it refurbished the Hippodrome Theatre in Darlington into a modern entertainment venue hosting some of the UK's best acts.