Apprentices Excel at the Scottish Plumbing Apprentice of the Year Competition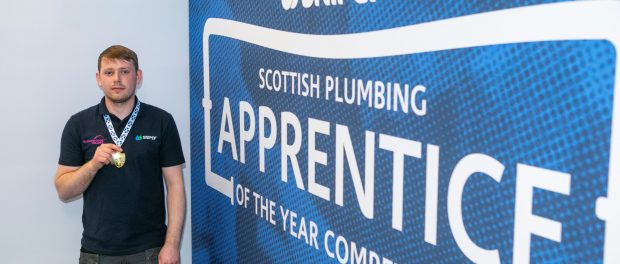 Apprentices from the University of the Highlands and Islands scoop six of the top nine prizes
 Glasgow, Scotland – Three of Scotland's brightest and most promising plumbing apprentices have demonstrated that the future of the profession is in safe hands after being awarded the prestigious title of Scottish Plumbing Apprentice of the Year at Glasgow Clyde College.
Finlay John Macaulay from Alpah and Moray College UHI (University of Highlands and Islands) took home first place in the competition's Copper Category following his impressive demonstration of technical skills. Paul Marshall from James Frew Ltd and West College Scotland, and Callum Westwood from Park Plumbing and Heating and Perth College UHI claimed second and third place, respectively.
Finlay Calder emerged victorious in the new Renewable Category, introduced for the first time this year's competition. Representing R&I Cruden Limited and Inverness College UHI, Calder's profound understanding of renewable energy technologies set him apart from his peers. Thomas Pender from Solway Heating Services Ltd and Glasgow Kelvin College, and Tommy Smith from Moray Council and Moray College UHI, took second and third place, respectively.
In the Lead Category, Shaun Wilcox of Moray Council and Moray College UHI showcased exceptional precision and commitment, securing the top spot. Runners-up were Marion Lisa Stewart from G&A Barnie Group Ltd and Moray College UHI, and Ryan McCrone from Cruden Building (Scotland) Ltd and Glasgow Clyde College.
SNIPEF's Chief Executive, Fiona Hodgson, commended the apprentices, saying, "The competitors clearly demonstrated why they were chosen to represent their colleges, all showcasing an abundance of technical skills, knowledge, commitment and enthusiasm throughout the competition. They are the best of the best of our next generation of plumbing and heating professionals, and I commend them all.
"Their success competition coincides with SNIPEF having just been awarded Scottish Government funding for 400 new plumbing and heating apprenticeships, helping to ensure that our profession can deliver Scotland's ambition to transition to a low-carbon society."
Christopher Paxton, Regional Director of City Plumbing, headline sponsor of the Scottish Plumbing Apprentice of the Year awards, commented, "This year's competition has highlighted the extraordinary talent and tenacity of our industry's emerging professionals.
"Our support for this competition in 2023 underscores our belief in the transformative power of apprenticeships and our dedication to driving growth and sustainability in the industry. We're excited to continue investing in our industry's future and can't wait to see how these promising apprentices will help shape a greener, more efficient Scotland."
University of Highlands and Islands triumphs at the Scottish Plumbing Apprentice of the Year competition
 One of the noteworthy highlights of this year's competition was the exceptional performance by apprentices from the University of the Highlands and Islands (UHI), who claimed a record-breaking six out of the nine top prizes.
Commenting on their success, Dale Thomson, SNIPEF Training Manager said, "We're incredibly proud of the success of our apprentices from UHI.
"Their accomplishments underscore the exceptional calibre of education and training provided by the University, which in turn reflects on the excellent future prospects of our profession. Their achievement is not just a testament to their skill but also signifies the impact of dedicated and high-quality education in plumbing and heating in our country."
Thomson added, "I would like to extend my heartfelt congratulations to each apprentice from UHI. Your achievements are a beacon of excellence and a clear demonstration of what can be achieved through hard work, dedication, and a rigorous education system. This success is a commendable demonstration of the future of Scotland's plumbing and heating profession."