Conquip wins competitive tender for major mixed-use development project in London, UK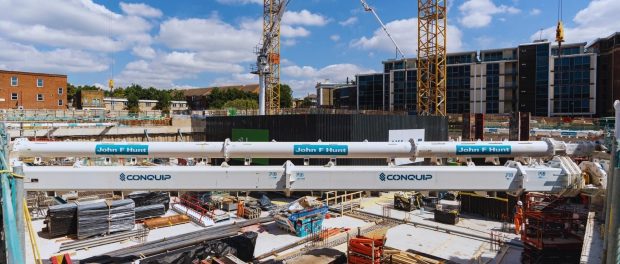 Conquip Engineering Group, the engineering and manufacturing organisation supplying products and services to customers globally, announces that it has been awarded a project to deliver a complex, four level temporary works propping scheme by contractor John F Hunt. John F Hunt has been engaged to deliver basement excavation and construction on a mixed-use development project in the City of London in the UK, by main contractor, Mace.
The ambitious development requires full demolition of One Liverpool Street and development of a 10-storey building for office use with two levels of partial basement.
John F Hunt selected Conquip for the supply of the temporary propping over other bidders as it demonstrated a clear understanding of the project requirements and desired construction methods. Its ability to deliver a complex and demanding scheme in an agile way was proven when Conquip modelled the work within a BIM process and provided guidance with sequencing and methodology.
Temporary Works Propping at One Liverpool Street is expected to start in Q4 2023.
This project extends the relationship between Conquip and John F Hunt, with Conquip supporting JF Hunt for more than a decade with a wide range of products and services. Of note was the St Pancras Campus basement excavation project in London, where Conquip value engineer designed, manufactured and supplied the temporary propping solution, prior to the construction phase of a sustainability-first three building scheme.
Conquip has an extensive track record of innovation, problem-solving capabilities and safety in temporary propping since 2018, with client-focused designs and efficiencies through value-engineering leading to economical schemes for clients. Compared to structural steel solutions, Conquip's proprietary temporary propping system leads to improved sustainability, cost efficiency and speed to installation.
George Critchley, Group Director at Conquip Engineering Group said:
"We're delighted to partner with John F Hunt on another prestigious London development, following a successful project at St Pancras Campus in 2022. Over the last few months of this tender processes, we've supported the scoping and engineering needs with a dedicated team, committed to working with John F Hunt. Their trust and confidence in our capabilities is a valued endorsement to our whole team."
Jamie Fitzpatrick, Senior Project Manager at John F Hunt said;
"John F Hunt are pleased to be partnering once again with Conquip Engineering Group to deliver the temporary works design of the basement propping at 1 Liverpool Street. They have demonstrated a clear understanding of the strict Ground Movement Assessment and the permanent/temporary works designers' requirements. Conquip were also fully cognizant of the key stakeholders, including London Underground assets in immediate proximity to the project, allowing them to develop a clearly understood design proposal."