WHY FLAT ROOFS SOMETIMES HAVE THE EDGE ON PITCHED ROOF DESIGN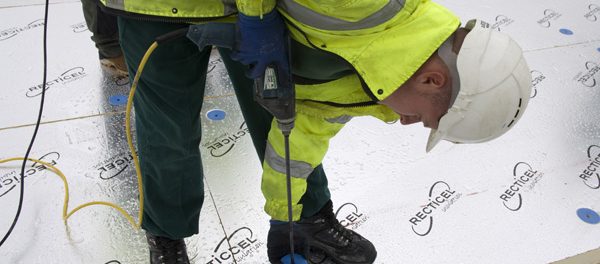 By James Wilinson, Design Team Manager at Gradient
In residential or commercial environments, properties are generally covered with a pitched or flat roof design. Although both different in style, each is designed to carry out the same task: safeguard a building against the elements whilst contributing to the creation of a warm, thermally-efficient interior. But why do some property owners opt for a flat roof rather than a pitched roof design or pitched roof extension?
Firstly, the title 'flat roof' is slightly misleading. No roof is completely flat, as each one must contain a slope, however slight, in order to allow effective rainwater run-off. If water is not properly dispersed from a flat roof its weight will lead to deflections forming and increase the risk of ponding. This additional weight may increase the likelihood of a worst-case scenario: water-based structural damage, one of the most common forms of building failure.
Advantages of a flat roof over a pitched roof design
Although suitable for a range of environments and applications, flat roofs have greater prominence on commercial or publicly-funded buildings including schools and hospitals. In these areas, the advantages of a flat roof over a pitched roof design are more pronounced for several reasons. Commercial roofing spaces tend to be much larger than residential settings and contain multiple levels, eliminating a sloped or pitched roof design as an option. Bearing less weight than a pitched roof design or pitched roof extension, a flat roof is more suitable for the safe, convenient placement of plant such as air conditioning units and other plant materials that are crucial to high-occupancy buildings. The ease with which flat roofs are accessed and upkept in comparison to pitched roof designs or pitched roof extensions is enhanced by their ability to accommodate edge protection and ladder systems, thus reducing the safety risk during routine maintenance visits.
Pitched roof construction details
A roof's pitch is measured by the vertical rise in relation to horizontal run. There are two types of pitches, steep and shallow. A steep slope is between 45 and 60 degrees while a shallow pitched roof design is between 20 and 45 degrees. The steepness or depth of a roof's slope affects how much water will run off of it. This is why it's important for homeowners to know what their roof pitch is.
Pitched roof vs flat roof cost
Pitched roofs, due to their height and visibility, offer more of a striking statement in terms of aesthetics. However, flat roofs, on account of their rapid, cost-effective installation, easier maintenance and proven, long-term performance, find greater favour in commercial settings than a pitched roof design. That's not to say that flat roofs can't look as smart as they perform. Indeed, such are the advances in the technical composition of roof insulation and waterproofing membranes, flat roofs can provide a building with a crisp, uniform finish that obscures less eye-catching details, such as solar PV panels and plant details from being visible at ground level.
Flat roofs are typically more cost-effective to install than a pitched roof design or pitched roof extension. This cost-efficiency is enhanced by flat roofs requiring less maintenance to uphold performance, although twice a year inspection is still needed as per BS6229:2018. A pitched roof design or pitched roof extension might be considered more suitable for areas subject to heavy snowfall or rain due to their greater pitch allowing for a more rapid shedding of water.
Tapered insulation a facilitator to successful flat roof installation
As an effective way of creating falls to provide effective water run-off, tapered insulation is an increasingly popular method of securing a flat roof's long-term performance by keeping it dry and warm. However, achieving such an outcome requires good planning and specification, all of which can be taken care of by engaging with Gradient – experts in flat roof insulation and tapered roof insulation.
We work closely with clients at all stages of a project to deliver a tapered insulation system that is tailormade to suit flat roof applications varying in size and complexity. From design to the off-site manufacturing process, through to a system's installation and beyond, Gradient's turnkey service offers complete peace of mind. It guarantees that the tapered insulation system we select will be the most efficient and cost-effective for your flat roof's long-term protection.
The benefits gained from our all-round flat roof insulation and tapered roof insulation service could be considered priceless, particularly as our technical expertise and support, coupled with our range of high-performance insulation systems, enable flat roof installations to be carried out correctly first time, every time.
For more information on how Gradient can help you and your project, or if you have a specific technical query, contact us via our technical helpline on 01543 678777 or email: sales@gradientuk.com.