West Fraser supports community Men's Shed with timber donations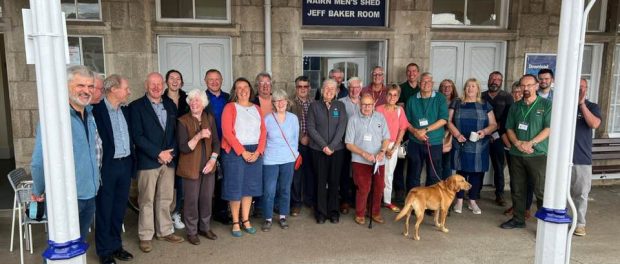 Leading panel manufacturer, West Fraser, has been providing donations of SterlingOSB Zero to a Men's Shed which is a fabulous initiative allowing members to meet and create!
The Inverness plant has provided the product to Nairn Men's Shed members allowing them to create furniture items, signs, and crafts using the wood for other charities and local groups in the community; of course, the work helps to combat loneliness and isolation.
One project includes creating a number of wooden workbenches which are being used as part of the renovated waiting room at the local train station in Nairn.
The Nairn Men's Shed, which has been running for seven years, recently hosted a supporters' event to welcome the West Fraser team to meet the 70 inspiring members to find out more about the work they've been enjoying.
Claire Ironside, Marketing Executive at West Fraser, said: "Our relationship with the team at Nairn Men's Shed is beneficial for everyone as the projects that the shed's members create from our donated OSB boards can benefit more than just the one group. From memorials and signs to gardens for local schools, it was fantastic to see what an amazing difference the members have made to the wider community using our products."

Ian Marshall, Director of the Nairn Men's Shed, said: "Our group relies heavily on the generosity of local businesses and other charities. We simply couldn't function without the generosity of West Fraser and we hope to continue working with them to help others."
For further information, call 01786 812 921 or visit https://uk.westfraser.com/