Rethink, Reset, and take Responsibility: key takeaways from the NBS Construction Leaders' Summit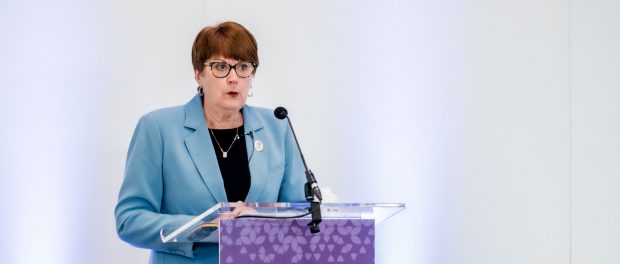 Today, senior leaders from across the construction industry gathered at the 2023 Construction Leaders' Summit, bringing together some of the most important voices in building safety and sustainability.
Hosted by construction data experts, NBS, at the Tottenham Hotspur Stadium, London, the event kicked off with a deep-dive into the issue of safety in construction and an update on the sector's progress on implementing a 'golden thread' of information – an idea first announced at NBS' conference in 2020.
Speaking at the event, Dame Judith Hackitt, Previous Chair of the Independent Review of Building Regulations and Fire Safety, said: "We now have a clear, systems-based approach to improving regulatory compliance and information sharing.  Competence, accountability, and responsibility are now being placed at the heart of building processes.

"This means changing the way we plan, design, and deliver buildings and it starts with a culture overhaul to encourage real ownership – overseen by a regulator with powers to impose serious sanctions for those who continue to try and game the system.

"To make this happen, it's no longer enough to focus simply on complying with rules. Those who continue to wait for rounds of secondary regulation are missing the point… Now is the time for the industry to pull up its boots and deliver quality buildings that can withstand the test of time. Feeling safe in a home, workplace or school is a basic human right and the construction industry has a responsibility to deliver it – let's make sure this new system works."
The event included other insightful talks. Jaimie Johnston MBE, Director and Head of Global Systems, Bryden Wood, gave an informative speech on the power of construction platforms and leading-edge digital tools to deliver construction solutions at scale. He said: "We're amid an infrastructure crisis which threatens our ability to deliver basic human needs worldwide. The good news is that technologies and innovations in design and construction are advancing at breakneck speed but applying these to complex problems is a collective task."
The afternoon session focused on sustainable construction and in particular, the sustainable practices that are moving the needle on delivering net-zero emission targets and how the role of digital adoption will continue to be a key driver in delivering higher standards of safety and efficiency across the board.
Gary Clark, Principal, HOK and former Chair of the RIBA Sustainable Futures Group, discussed how specifiers and manufacturers can help in the built environment's drive toward Net Zero. He said: "This year is destined to be the hottest in over 100,000 years. The Committee on Climate Change has highlighted that the Prime Minister's recent announcements are putting the UK's legally binding net zero carbon target of 2050 at risk. The government and the construction industry need to take action to deliver a step change in sustainable and regenerative development. As the new RIBA President announced: 'the time to act is now."

He was joined by Jade Lewis, Chief Executive Officer at the Sustainable Energy Association, who spoke about why data will play an important role in driving forward the sustainability agenda in the construction sector. She said: "This starts with manufacturers, who need to provide designers with the data they need to build more sustainably. They will play a vital role in helping the SEA deliver its vision for all buildings to be fit for the future."
With a focus on the entire construction supply chain, talks throughout the day also examined how safety and sustainability considerations have impacted building product manufacturers as well as designers, particularly in the way building information is used and managed by the industry.
Speaking on the building safety panel, Nigel Morrey, Technical Director at product manufacturer and headline sponsor Siniat, said: "The Golden Thread has become a crucial way to increase transparency within the industry and show how every organisation contributing to the construction of a building has mitigated risk. It stipulates a need for an up-to-date, easily accessible, and unbroken thread of information. The evidence found within EN and EXAP evidence ensures that fire safety information is supplied in a clear and consistent format, enabling the Golden Thread to be achieved more easily across the industry.

"Requesting EXAP classification reports is vital to ensuring that as an industry we are moving towards safer processes and futureproofing our buildings. This will give construction professionals today, and tomorrow, the peace of mind that their building is safe."
The day ended with a discussion on Digital and AI in construction alongside some of the leading voices in business, including Innovation Expert Jonathan MacDonald and McKinsey & Company Partner David Rockhill.
Russell Haworth, CEO of NBS and UK CEO, Byggfakta Group, concluded the event by saying: "The new safety regime makes high-quality and connected data as essential to building projects as bricks and mortar. Importantly, taking a digital-first approach will enable the industry to put sustainability and safety at the heart of every construction decision, for the better of people and the planet.

"That's why the summit is a great opportunity for professionals across the sector to share best practice and receive take-away advice that they can implement in their day-to-day decisions.

"As we celebrate 50 years of NBS, we're reflecting on how far we've come, and importantly, where we go from here. Now is the time to make real change on the ground, and NBS is proud to be helping the industry work toward higher standards throughout our built environment."