Wates joins forces with NHDG to boost retrofit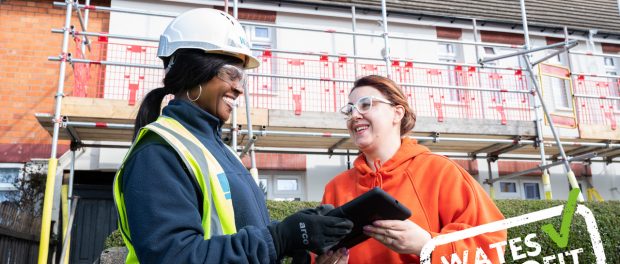 Wates has become one of the first members of the newly formed National Homes Decarbonisation Group (NHDG) in a move that will help accelerate the social housing retrofit challenge.
The Group will work together to drive social housing retrofit at scale, with a focus on growing a compliant supply chain, seeking innovation and advising on Government policy.
Wates' membership comes as its Retrofit team completed its 3,000th low carbon retrofit for social housing properties, many of which have been delivered through the Government's Social Housing Decarbonisation Fund (SHDF).
The business' commitment to the UK's Net Zero journey has also included the recent launch of an innovation call-out to find new and emerging sustainable technologies that will help  housing customers meet their carbon emissions targets.
As part of the campaign, Wates is searching for specialists in products that improve energy use, help save energy or money on household energy bills, or improve the sustainability of properties. Businesses keen to register their interest can apply online.
David Morgan, Executive Managing Director, Wates Property Services, commented:
"There have been great strides made in meeting the Government's decarbonisation targets for social housing, but there is a huge amount still to do and there is a real risk this won't be achieved if we aren't proactive in putting the right systems in place.

"Retrofit calls for a very specialist and skilled supply chain and there is currently a void between demand and capacity; this is why groups such as the NHDG are so important in bringing the industry together to find solutions. We look forward to working with our peers to address these challenges, cultivate innovation and be the voice for an industry that is working hard to move us all closer to Net Zero."