HRH, the Princess of Wales, opens Hope Street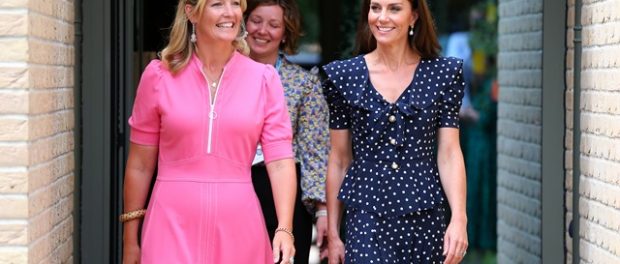 Her Royal Highness, The Princess of Wales, has officially opened Hope Street: a landmark project delivered by construction and fit-out specialist, Chisholm & Winch.
Located in Southampton, Hope Street is a purpose-built, family friendly community which is piloting a ground-breaking new approach to supporting women in the justice system. It combines residential accommodation with a creche and community hub building, including a café, where residents can mingle, gain access to specialist support and workplace skills, take part in therapies and wellbeing activities. During the opening, Her Royal Highness took a tour of the new buildings and met members of the delivery team and other partners involved in the unique project. She also visited the onsite creche before meeting women who have lived experience of the justice system and heard about the transformational impact an environment like Hope Street can have on women and their families.
Trauma Informed Design
As main contractor on the project, Chisholm & Winch has been pivotal to the project, working closely with architects Snug, and client, One Small Thing.
The trauma-informed approach to the design has focused on incorporating lots of natural light and warm timber to the interiors, as well as the use of tactile materials and finishes, effective acoustic protection and inclusion of cosy spaces in the Hub building. A landscaped central courtyard adds a sanctuary and connection to the nature, while the living spaces in the residential buildings are comfortably domestic.
Hope Street is on target to meet the top BREEAM rating of 'Outstanding', thanks to its excellent levels of thermal insulation, air source heat pump heat supply, natural daylighting and reduction of the embodied energy of the fabric through a cross laminated timber frame.
The Opening
Simon Castle, Managing Director of Chisholm & Winch, attended the opening event on Tuesday 27th June and said:
"It was a privilege to be at Hope Street as Her Royal Highness officially opened the facility.  This has been such an important project for our team for the past two years and I know how much it means to One Small Thing and all the partners involved to be able to make their vision for reimagining the justice system a reality.
Transforming Lives
Claire Hubberstey, Chief Executive of One Small Thing, said:
"We are delighted that The Princess of Wales has taken an interest in our work. At Hope Street we recognise that women who enter the justice system are often led there by a long history of trauma, and separating mothers and children compounds that trauma for the next generation. We have worked hard to create a welcoming environment for women and their children so they feel safe in working with us and accessing support.

"This evidence-based approach is helping to break cycles, keep families together, and improve outcomes for society. We hope the pioneering model we are piloting at Hope Street will demonstrate how a compassionate and supportive approach towards women in the justice system can have a transformative impact – creating a blueprint which can be scaled nationally.

"This is more than a building. It is the culmination of a vision, a new start for women and their children and the beginning of a very different legacy."