The Second Safety Coming of Sweden.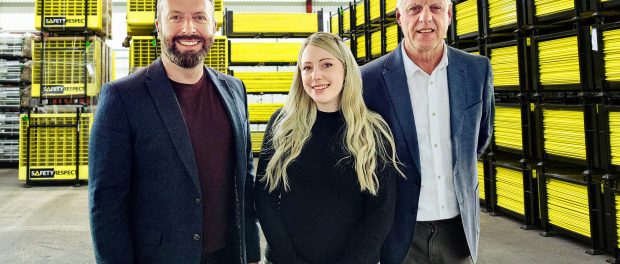 After the Swedes revolutionised the UK temporary edge protection market in the early 2000's, another Swedish company, Safety Respect, is investing in the UK, saying now is the right to enter the most sophisticated construction market in the world.
After recruiting a new team and investing in a UK logistics centre, Safety Respect, who are the largest producer of edge protection products in the world, plan to deliver the highest stock levels and the fastest delivery service from its two high-tech European manufacturing plants.
Manufacturing over 100,000 barriers worldwide every year, Safety Respect UK will have the most extensive range of products and services at every step in the Work At Height Hierarchy. And it has significant growth plans in multiple territories with the UK market a prime target.
Founded in Ostersund, Sweden in 2007, Safety Respect has purchased Vivatec UK to get a foothold into the British marketplace and has placed Vivatec boss Oliver Gwinnell at the helm. Gwinnell is ex Trad and Combisafe and was part of the Swedish firm's product sales team that arguably changed the UK face of temporary edge protection.
A quarter of a century ago the UK temporary edge protection industry was very different. But with an influx of European brands many initiatives, for example, product standardisation, were quick to catch on and are very much now the norm.
Oliver Gwinnell, UK MD said, "Having worked in temporary edge protection for nearly twenty years, through recessions and a pandemic, we have huge aspirations in the UK, and we think now is the perfect time to launch here and offer something different.
"Safety Respect UK isn't going to be another 'me-too' company.  We make our products in our two high-tech factories. We don't make products for anyone else; we have the biggest, focused capacity for producing and that's shown by manufacturing more products than anyone else. We can truly design bespoke solutions and because of our size we have the capability and control to deliver products fast. So, my message is simple, with Safety Respect UK you will get 'speed, no bumps'.

"I am going to keep my powder dry, but we have numerous innovative ways of smarter working just around the corner using technology. We want to be the next generation. We have a wise and experienced team with many years' service plus a group of hungry innovators who want to engage differently with the industry."
Per Ramberger, Safety Respect CEO said, "There is much opportunity in the UK, and we are excited by this announcement. The UK is a mature, sophisticated market, wanting clever products and solutions. Our production capabilities are substantial, and we have invested heavily in technology creating smarter ways of working. We currently manufacture just over 100,000 barriers every year with a capacity of 125,000 meaning we can always deliver.
"Being Swedish, I have many dreams and aspirations. I have always wanted to be at the forefront of our industry, always wanting to find a better way of doing things. That isn't arrogance, that's being Swedish. Aspirations are important to us and by doing things well, doing them properly, with quality materials, the best people, having integrity, we have become, in a very short period of time, the
World's biggest manufacturer of temporary edge protection products and I'm very proud.
"We have already supplied some very big UK projects and I very much look forward to seeing how we progress during these very exciting times."
Safety Respect UK will offer products and services across all steps of the Work At Height Hierarchy including catch fans, temporary edge protection barrier and access solutions like stairways. Also, personal protection equipment including harnesses, lanyards, rescue devices and the innovative Scissorsafe anchorage system. Plus, numerous certified training courses to help ensure product and site competency.
For more information, visit www.safetyrespect.co.uk