IMA Architects Flex Design Muscles with £1.9m Rugby Gymnastics Project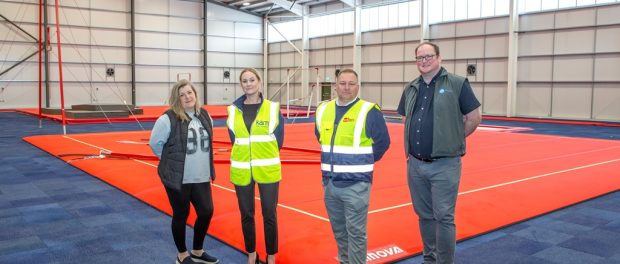 Leicestershire based architects, IMA Architects, has successfully delivered a brand-new, purpose-built gymnastics facility for Rugby Gymnastics Club.
IMA has been part of a team including KAM Project Consultants and BWB, on behalf of Sport England, that has worked with the Gymnastics Club to realise the 19,655 square foot scheme at its new home on Kilsby Lane.
IMA Architects was part of the design and delivery team consisting of main contractors, Wilten Construction and Civil and Structural Engineers, Jackson Purdue Lever. As Architectural Consultant, IMA oversaw the coordination of the project.
Joe Travers, Associate Director at IMA Architects, said: "We have enjoyed working on this project to deliver a purpose-built gymnastic facility for a thriving club.  At IMA we're well known for our attention to detail and commercial awareness in seeing projects through to completion, and we have worked with Wilten as main contractor and the Gymnastic Club to produce a building which is both fit for purpose and financially viable, that accommodates the Gymnastics Club's required layout."
Construction at the site started in August 2022 and practical completion for the first phase of works was achieved on 6th February 2023, with the Gymnastics Club due to relocate to its new home in the coming weeks.
Simon Barnett, Project Manager at Wilten Construction comments: "The project has resulted in a massive improvement on the Club's previous facilities which had become inadequate for the current needs of members. The new building allows them to have more gymnasts and facilitate holding their own events and competitions."
Rugby Gymnastics Club is a long-established Gymnastics Club in Warwickshire, which is dedicated to training young gymnasts, both boys and girls of all levels and ability from pre-school through recreational to elite standard and competitive squads. It offers children the opportunity to experience gymnastics in a safe and friendly environment with tuition provided by professional coaches. The new building will enable the Club to expand the sport into a wider community.
With an estimated construction cost of £1.9m, the Club has generated the majority of the funds from the sale of its existing premises as well as various fundraising schemes and donations. It has also received circa £500,000 in funding from Sport England. Anyone interested in supporting the project with donations to help fund internal fit out and contribute to the rest of the venture is encouraged to contact the Club directly.
Gill McKee, Development Director at Rugby Gymnastics Club comments: "We are thrilled with our new home and can't wait to fully move in. We are an ambitious club with over 1,000 members so needed an amazing facility to match our aspirations. We currently have a waiting list of 500 gymnasts, so the new facilities will allow us to approve more memberships and provide gymnastics facilities to more people in the local area."

Lucy Litwinko, Director at KAM Project Consultants Ltd comments: "We are pleased to see the project come to fruition, on time and on budget. We hope that the facilities will inspire the next generation of Team GB athletes in the future. It would be fantastic to know one of the gymnasts started their careers at the facility we had a role in creating."
IMA is an award-winning firm of architects based in Blaby, Leicestershire. The firm, which celebrated its 25 Anniversary last year, has grown from a two-person team, to now employ 18 members of staff and work with a range of FTSE 100 companies, such as Marks and Spencer, and global brands such as Lidl. The company is a proud Community Partner of Leicester City Football Club and a sponsorship partner of both Leicester Tigers RFC and Leicestershire County Cricket Club.