Staff at Vistry Thames Valley raise thousands for suicide prevention charity Papyrus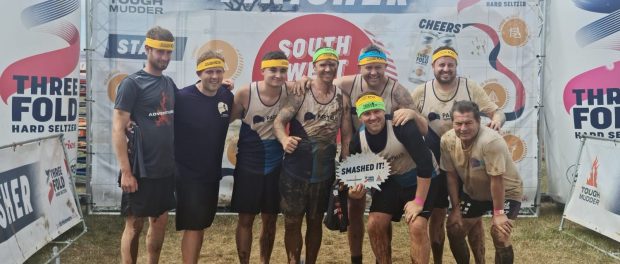 Staff at Reading-based housebuilder Vistry Thames Valley took on a Tough Mudder course and walked and cycled 62 miles as they raised thousands of pounds for charity.
The employees raised £7,000 in a series of events over 12 months to raise money for Papyrus – Vistry Group's national chosen charity for 2022.
Papyrus is dedicated to the prevention of suicide, which is the biggest killer of people aged 35 and under in the UK. The charity provides confidential support and advice to young people struggling with thoughts of suicide and anyone worried about a young person through its helpline, HOPELINEUK.
A team of 14 employees from Vistry Thames Valley were sponsored to complete a Tough Mudder event on Sunday 21 August, where they tackled a series of muddy obstacles over a course at the Badminton estate in South Gloucestershire.
Staff from the division also raised money by taking part in the national challenge Vistry Voyage, which saw employees from across the company carrying a commemorative book of awareness 1,163 miles from the North East of England to Cornwall while travelling using various forms of human-powered transport.
Vistry Thames Valley managing director Trevor Wicks cycled the first part of the division's section of the route from Marlborough to Kintbury, with operations director Lance Else riding the next stage to Aldermaston. Land manager James Davis then cycled to the region's head office in Reading, from where a group of employees walked the two miles down to Sunning Golf Club. Senior land manager Fiona Harrison completed the final – and longest – section of the journey by bike to Windsor Castle where she passed the book of awareness to colleagues from Vistry Partnerships London.
Money was also raised by sales of home-made cakes in head office and on sites across the division, inspired by the Great British Bake Off.
Alix Laflin, marketing manager at Vistry Thames Valley, said: "Our staff really did rise to the challenge to put themselves out of their comfort zones and help raise money for Papyrus. There were some sterling efforts by employees taking on the imposing Tough Mudder course at Badminton and those walking and cycling to help complete the Vistry Voyage challenge.
"The work that Papyrus does is especially poignant for us in this industry, as according to figures from the Office for National Statistics, more than 1,400 construction workers took their own lives between 2011 and 2015 and the suicide rate for the industry is estimated at more than three times the national average for men. So it means a lot to help this charity in our small way."
The money raised by Vistry Thames Valley went towards the £257,862 total amassed by all Vistry Group divisions for Papyrus. Earl Sibley, Vistry's Chief Operating Officer, gave a cheque for the total amount raised to Papyrus representatives.  
A spokesperson for Papyrus said that the amount raised by Vistry, which was £100,000 more than the target set, made it the most successful corporate partnership to date for the charity.
Amanda Scott Barbera, Corporate Fundraising Manager at Papyrus, said: "The whole of Vistry Group and all their business units have been a delight to work with. Because the staff voted the charity in, everyone has been keen to get involved and the Group have been extremely generous."
To find out more about Papyrus visit https://www.papyrus-uk.org.