Elevate Property Group appoints Bode Contracting to build its £50m Silk Yard scheme in Derby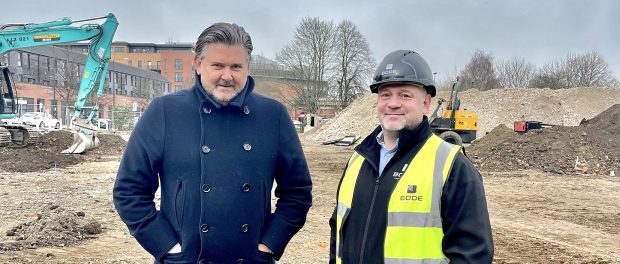 The developer of a £50m property scheme in the centre of Derby has appointed an East Midlands construction specialist to deliver the project over two years.
Elevate Property Group, which is responsible for the iconic Trent Bridge Quays development in Nottingham, has selected Bode Contracting to build the 258 apartments that will offer high quality, affordable city centre living for young professionals, couples, and downsizers.
Phase 1 of The Silk Yard will provide 94 apartments on the corner of John Street and Castleward Boulevard, with the second release set to include 164 properties in a five and seven-storey building on the adjacent site.
Buyers and investors will be able to choose from one, two and three-bedroom apartments, as well as studio-style apartments across the 1.55-acre site that was once an historic manufacturing sawmill.
Steve Dodd, managing director of Elevate Property Group, commented:
"We have built a very strong partnership with Bode Contracting. They have just finished The Priory House Development for us in Birmingham and are currently working on the second phase of our Trent Bridge Quays development in Nottingham.

"The company have always impressed us with the quality of their build and ability to meet deadlines, especially with the well documented supply chain disruption we've seen in construction in recent years."
He continued:
"Bode are also working with us to ensure that sustainable construction techniques are used in what will be one of the highest-profiles schemes Derby has seen since lockdown eased."
The Silk Yard, which has been designed by architects Corstorphine & Wright, is the first time Elevate Property Group has developed in Derby and continues the firm's desire to bring historic city centre sites back to life through high quality residential developments.
Bode Contracting will start work this month and the construction of the three apartment blocks will take two years to complete.
The 258 new homes will be ideally located between the city centre and the railway station, contributing a valuable new source of quality housing in central Derby for first-time buyers, downsizers, investors, and professionals commuting by rail.
Dan Bodell, managing director of Leicestershire-based Bode Contracting, went on to add:
"This is our fourth appointment by Elevate Property Group in the last two years and underlines the strength of the relationship and the fact we share the same passion and values of high-quality construction, regeneration and best practice."
He concluded:
"The Silk Yard is a very ambitious project and will unlock a vital site that will support Derby's desire to regenerate this area and attract new people and businesses into the city."
Elevate Property Group's development footprint in the East Midlands continues to grow, with Phase 1 of its Trent Bridge Quays project almost sold out and Phase 2 well underway and selling fast.
For further information, please visit www.elevatepropertygroup.co.uk