Wates completes first net zero school as part of DFE's School rebuilding programme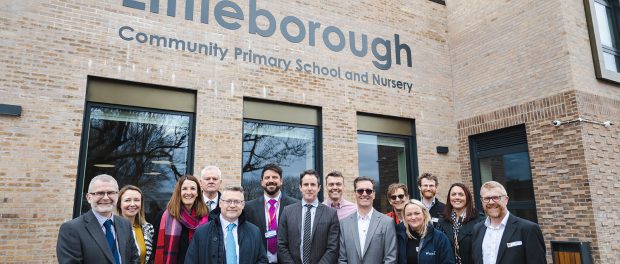 Wates has completed the first Net Zero school as part of the Department for Education (DfE) School Rebuilding Programme – the £10m Littleborough Community Primary School in Rochdale, Greater Manchester.
The 2,243sq m two-storey project, has been constructed on land within the existing Littleborough campus. It will provide 14 new classrooms, a library, a new sports/assembly hall, Multi Use Games Area (MUGA) and a 420-place primary school providing 60 places for each year group along with a 26-place nursery.
Procured through the DfE's Modern Methods of Construction framework, the scheme used Wates' Adapt 3.0 component-based design to maximise sustainability and ensure the building is Net Zero Carbon in Operation (NZCiO).
This included an optimised thermal envelope with increased insulation and large, triple glazed windows to maximise daylight together with rooflights and lightwells, enhanced ventilation and Photovoltaic solar panels.
As part of Wates' Social Value commitments, £3.6m worth of initiatives were delivered to the local community, including nearly £80,000 invested in local charities and causes. All targets were exceeded, with 1,500 training weeks provided as well as a T-Level placement, 39 apprentices employed, and site visits and career advice given to 92 local students.
The project is the first to be completed as part of the DfE's School Rebuilding Programme – a 10-year scheme of works which is seeing the rebuilding or refurbishment of 500 schools and sixth form colleges across the country, transforming learning environments for pupils and teachers.
Construction started in September 2021 with all works carried out while the existing school was still in operation. The project has been delivered on time, and completion was celebrated with an event attended by delegates from across the delivery partnership, Rochdale Borough Council and the DfE.
Sarah Cooke, regional director for the North West at Wates Construction, said:
"Littleborough represents a step change in how schools are built, designed to not only provide brilliant, state-of-the-art learning facilities for pupils, but for the long-term benefit of the wider environment.

"We've been a partner to the DfE for years and it was an honour to be chosen to deliver this pioneering project. It's benefited from the latest evolution of our Adapt system, while our experience using MMC to find sustainability solutions – for both public and private builds – has helped us deliver the DfE's NZCiO goal. I congratulate all our teams on making this happen and look forward to our next completion."
Baroness Barran, Parliamentary Under-Secretary of State for the School System and Student Finance, said:
"We're thrilled to be celebrating the opening of the new net zero building at Littleborough Primary, a £10m School Rebuilding Project that started in Sept 2021 and will mean 14 new classrooms, a library, a new sports hall and multi-use games area for the children and families in this area.

"This is the first entirely new building to have been completed and opened as part of the Government's Schools Rebuilding Programme, which will see 500 schools across the country benefit from new and renovated energy efficient school buildings that local communities can be proud of.

"Thanks to Littleborough Primary and all its pupils, parents and staff for their support throughout the rebuild."
Louise Woodman, Head Teacher at Littleborough Community Primary School, said:
"We are delighted with our new building and it completes the improvement programme that has been taking place for a couple of years."

"The children absolutely love the modern facilities and can't wait to be in the new classrooms and use the new library and multi-use games area."
Councillor Rachel Massey, Rochdale Borough Council's cabinet member for children's services and education, added:
"We are immensely proud that the borough of Rochdale is leading the way in this national programme and Littleborough Community Primary School is the first Net Zero school to be completed as part of the rebuilding programme."

"What's most important is the new environment provides our children with the best possible environment for learning and it is also a real asset to the local community."
Littleborough is the first project to be completed as part of the initial tranche of Net Zero schools in the DfE's School Rebuilding Programme, with Wates' delivering an additional two projects at Lytham St Annes High School and Whitworth Community High School. Wates also recently completed their first project procured through the MMC framework, Edgar Wood Academy, in Middleton.