Skills shortage could hinder Government's 2035 gas boiler plans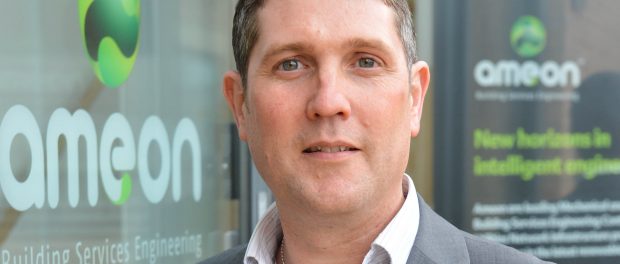 "Forget the argument about cost. It's the shortage of trained 'green' heating engineers that could hinder the Government in its attempt to ban gas boilers by 2035, in favour of greener heat pump technology." That's the view of Robin Lawson, managing director of Ameon, one of the country's leading building services engineering companies.
Following news that ministers are currently discussing a cut off date of 2035 and that gas boilers are to be banned from new homes from 2025, Lawson adds his support to the Government's agenda to reduce carbon emissions but argues that we haven't heard enough in the Government's Heating and Buildings Strategy about the market's skills shortage, because there are simply not enough heating engineers currently who are experienced in the installation of alternative heat source technologies, such as ground or air heat pumps. He suggests that tens of thousands of new or re-skilled engineers will be required if the Government's plan to install 600,000 heat pumps per year by 2028 is to be achieved, and argues that the drive needs to be supported by the associated training provisions to help it meet its goal.
The head of a Lancashire headquartered business that has been working with green technologies for over a decade on large scale public sector and residential developments, Robin Lawson believes that the infrastructure needs to be in place to be able to train enough people to carry out the installation programme, and that this could be more of a factor in the achievement of 2035 target aspirations, than even public reluctance to embrace the technology for cost reasons.
Adding to his comments, Robin Lawson said: "At Ameon, we have a team of qualified, specialist heating and ventilation engineers who are hugely experienced in low carbon technologies but their experience and skill set has taken considerable time and investment in training to develop, so I hope the Government hasn't underestimated the vital importance of training.
"You can't simply ask heating engineers, who are used to fitting conventional gas boilers to switch to installing ground or air source heat pumps overnight. There needs to be significant investment in training and, of course, the time to deliver training. The other related issues, such as where training would be delivered and who funds it can be more easily addressed. After all, the Chancellor has protected UK businesses at the drop of a hat in the midst of a pandemic; proving that anything is possible."
Currently discussions in Whitehall include such ideas as homeowners being required to install 'green' heating before they can sell their property, or levying a surcharge on gas boilers to subsidise production of heat pumps: although no firm decision has yet been taken.
Former Conservative minister, Steve Baker, has warned of public anger if all implications of the Government's plans are not explained fully to homeowners, and Robin Lawson is adding his voice to the questions. He observed: "In the industry we are fully supportive of the Government's aspirations, and I think people in general are broadly behind this move to reduce carbon emissions, particularly as gas boilers account for a percentage of CO2 produced annually; therefore it is an important area to focus upon if 'net zero' carbon emissions by 2050 are to be achieved.
"Roughly 85% of UK homes currently rely on gas for heating, which is around 25 million homes, so the scale of the change required is immense, even if the UK had the qualified engineers to start from day one, which is why I'm calling for an investment in training to be at the heart of the Government's planning."