Site Pod is calling for sites to improve the health, safety and welfare facilities for workers – they have the perfect solution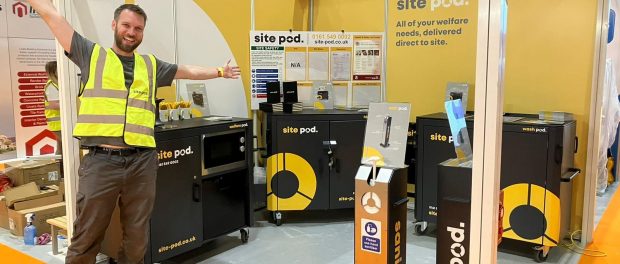 "It's really quite simple – Site Pods will meet your H&S needs and ensure workers are well-looked after. Workers feel more valued leading to increased productivity!"
Hands up if you saw us at UK Construction Week in May! We were proud to show off our full range and thrilled with the positive responses from our visitors. The show was a pleasure to attend – the Site Pod team would like to say a huge thank you to UK Construction Week organisers and Construction UK magazine for featuring our products prior to the show. We expected visitors to like our pods but so many people expressed how impressed they were with them – seeing them on paper/on screen is one thing but getting to interact with them proved to be a hit. And since, the pods, have been selling themselves!

So, you want to buy your own pods? That's fine too.
The reaction from visitors to our stand was overwhelmingly positive with many of our visitors enquiring into how to purchase the pods. Whilst we had originally planned for our pods to be for long-term hire only, we have listened and now have our full range available to buy too. We are also providing customers with the option of personalised branding. Don't worry though, if hiring our suite of pods, with an optional maintenance package, is your preferred option, we are still able to cater for your needs.
Why should you have Site Pods on your site?
It's really very simple – it is your duty! Employers working within the construction industry have a responsibility to provide adequate welfare facilities and a healthy and safe environment for every worker. By using Site Pods, your health and safety and welfare needs are being met. Our Welfare Pod comes complete with a built in microwave, refrigerator, hot water, drinking water and secure storage. We recommend using the Welfare Pod in rest areas so workers can have a comfortable break away from the site. Workers who have experienced our Welfare Pods on site have expressed how much easier it is to have all their welfare needs met in one place – a hot drink, fresh food and a warm lunch. Workers are happier as they know they are being well looked after. Happy workers result in higher productivity.
Our Health and Safety Pod is the perfect place for 'tool-box' talks. It displays your compulsory signage and site safety notices. It comes complete with first-aid kit, eyewash station, sanitiser,
secure storage, 2 litre Firexo fire extinguisher, wi-fi fire alarm and, like all our pods, is portable for easy manoeuvrability across site. It's a great first impression to every worker and visitor to your site.
The newest in our range is the Wash Pod. HSE have clear and thorough guidelines regarding washing facilities on site. The Wash Pod provides hot water (heated with 240v) for washing hands, arms and face. Multiple Wash Pods could be utilised on site to ensure workers are provided with adequate opportunities to wash, particularly where there is exposure to hazardous substances and chemicals – this will help to control any risk of contamination. Our Sani Pod can be used alongside our Wash Pod for increased cleanliness.
Be sure to have a safe site in case of emergency!
Construction and refurb sites have the potential to be pretty dangerous, particularly if electrical equipment is being used regularly. If you are responsible for the safety of your site, our Fire Pods can provide you an innovative solution to fire safety. The portable fire pods are equipped with an all-fires extinguisher, fire safety signage and state of the art wireless fire alarm. Use up to 12 Fire Pods on one site for full coverage and should an alarm be triggered, each will sound together meaning a collective alert sound will ring throughout your site, notifying your team to get to safety. The Fire Pods are sleek, stylish and most importantly support a safe site.
Site Pods are your sensible option for site safety.
With our mission being to enhance welfare and health and safety standards across the construction sector being our driving force, we are already seeing the impact of our pods. Site managers and contractors are echoing our view that Site Pods are the perfect solution for meeting the needs of every site. Contact us today to find out more and hire or purchase our pods.

Find us on:
Website – www.site-pod.co.uk
Facebook – www.facebook.com/profile.php?id=100088317671696
Instagram – instagram.com/site_pod?igshid=YmMyMTA2M2Y
Linked in – www.linkedin.com/company/site-pod/
Get in touch:
Telephone: 0161 5490002
Email: sales@site-pod.co.uk
Website: site-pod.co.uk
Key Personnel:
Managing Directors: Davidl@site-pod.co.uk, davida@site-pod.co.uk
Sales Director: Nathan@site-pod.co.uk
Finance Director: Chris@site-pod.co.uk
Sales: sales@site-pod.co.uk