ANS Global Integrates Green Infrastructure into Dubai's Most Iconic Project – The Museum of the Future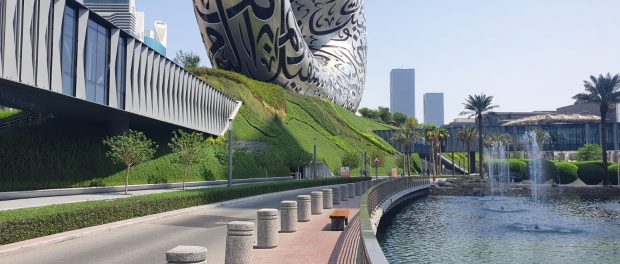 The UAE has produced some of the most iconic architecture over the last few decades.  Whether it be the Burj Al Arab, Burj Khalifa, Atlantis the Palm, Dubai Frame or the Opus buildings, visitors are fortunate to see the evolution of the innovative designs that the city has produced. A worthy successor to its predecessors, the Museum of the Future (MOF) has been able to distinguish itself by integrating nature with its unique Living Wall wrapping over 1500m² of the total site area.  
Setting a new standard with its curved living wall, the project has set a very visual and overt standard for implementing sustainability with this megaproject, ANS Global reflects on of the most challenging living wall that it has had to create.  
Featuring ornate calligraphy on the steel façade, the intricate oval-shaped structure represents a human eye which symbolises the future vision and knowledge that humans aspire to achieve. The void represents the unknown that humankind must strive to explore and understand. The green hill also known as the Living Wall represents Earth swelling up.[1] 
Finding the Missing Piece in the Puzzle 
Within the green hill is a three-storey podium structure comprising of the museum's lobby, auditorium, restaurants, retail and parking. The objective was to create a strong, thinly clad, vegetated cover.[2] 
The data, technology, innovation, and circumstances surrounding the project all pointed to the need for a feature to enhance the surrounding environment with a fitting bravura. The search for implementing a grand sustainable feature to match the architecture was met perfectly with the ANS Living Wall System. The unique challenge for this project was that the Living Wall had to be built with a curvature to complement the environment and architecture.
Entwining Nature with City Structures  
ANS Global has a philosophy of implementing comprehensive approaches in all its works. A mixture of native and non-native plant species was chosen due to their drought and salt tolerance properties. The vegetation is perfectly adapted to local environmental conditions and requires minimal water or fertilizer to sustain them. [3] 
The architecture of the MOF is unmatched and elegance unquestioned. However, the factor that pushes this iconic structure to new dimensions is the element of nature and sustainability. The curved greenery that the structure sits on has created a new visual sustainable standard that future architects and designers will aspire to. The legacy is that newer megaprojects will aim to surpass the sustainable features established at the MOF. This is a step in the correct direction and demonstrates that it is possible to contribute to building sustainable low-carbon urban societies and promote sustainable development in the green economy through sustainable design. 
For more info: https://www.ansgroupglobal.com/learn/case-studies/exterior-living-wall/museum-of-the-future