Sisk awarded £7.8m York Station Gateway: Highway Works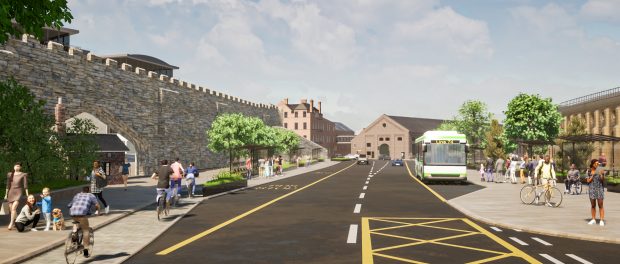 John Sisk & Son (Sisk) has been awarded a contract for the £7.8m York Station Gateway: Highway Works project. Awarded through the YORCivil framework, this is a build contract with elements of design, and includes transforming many public realm aspects at the front of York Railway Station. This includes removing the Queen Street bridge and realigning Queen Street, relocating the bus stops, moving taxis and drop off zones from the Portico to Parcel Square, enhancing cycle routes and cycle parking, improving pedestrian crossings and routes into the city, and creating a new public space called Station Square. The project is being brought forward by City of York Council, West Yorkshire Combined Authority, Network Rail, and LNER, and is funded though the West Yorkshire-plus Transport Fund, the Transforming Cities Fund, and the UK Government.
The transformation of York Railway Station being undertaken by City of York Council includes improving the entire area to make a safer experience for vehicles, cyclists, pedestrians, and bus users. Removing the Queen Street bridge will also reveal more of York's beautiful city walls to improve visitors first experience on arriving at York and open up new public spaces for both locals and tourists to use. Sisk will be working closely with a heritage stone mason to protect the fabric of the walls to ensure that the structure is protected at all times, and will be engaging a local archaeology team to protect and catalogue any historical finds.
York Railway Station is a key transport and business hub and Sisk will be proactively engaging with local businesses, residents, and stakeholders, with a range of information sessions and community engagement planned to keep the travelling public and local community up to date. The project is set to be completed in 2025.
 Andy Langley, Regional Director of Major Projects, John Sisk & Son said:
"At Sisk our purpose is creating places for future generations and this project is a great example of bringing that to life in a tangible and practical way for the people living, working and travelling in York. We are growing our business in this region of the UK on the back of some great projects and the quality of our people who are delivering them. We look forward to working closely with stakeholders to enhance York Railway station and its environment."
 Councillor Pete Kilbane, Deputy Leader and Executive Member for Transport and Economy at City of York Council, said:
"Today's announcement is a milestone for this transformative project which will create a fitting gateway for our beautiful and historic city.

"York Railway station has welcomed visitors and business to our city since 1877 and this project is among the most significant of many changes since then. As well as the transport improvements and welcoming, world-class public spaces, York will see major economic and social benefits, alongside the development of York Central.

"There are still some issues to be resolved, most notably around Blue Badge parking, but I am hugely grateful to everyone involved in the project who has helped us get to this point. We will be doing the work with our partners, as well as our new contractor, and continue to engage with local residents to try and minimise disruption."