Sisk and HUB top out Leeds build-to-rent tower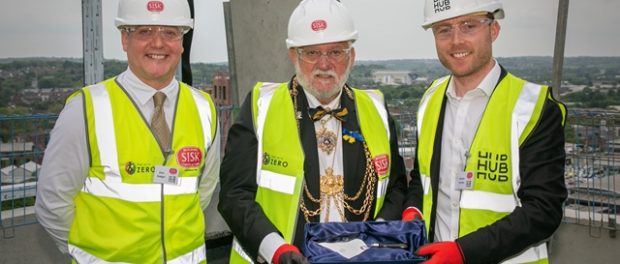 68 million towers will create 463 homes in city centre
On foot of UKREiiF in Leeds, John Sisk & Son (Sisk) and developer HUB celebrated a major milestone by topping out its UNCLE Leeds residential project, also known as Latitude Purple at Whitehall Road, Leeds city centre.
The UNCLE Leeds £68 million development, which is due to be complete in April 2024, sits on the previous site of Doncaster Monkbridge Iron and Steelworks, and consists of two residential buildings at 17 and 21 storeys tall. The topping out ceremony took place on the 17-storey tower block. The project is Sisk and HUB's first residential development in Leeds and will deliver 463 homes.
The two buildings will sit over a single level of basement, with a single storey podium deck over the basement between the two buildings. The podium will boast a landscaped area which will be accessible to the residents of the buildings, accessible from the first floors.
At ground floor, car parking will be available beneath the podium deck. Car parking and bicycle holds will also be available in the basement, where storage, MEP plantrooms and water tanks will also be situated.
This project complements the Sisk civil engineering presence in the Leeds city region which has delivered several projects including, Leeds Public Transport Investment Programme (LPTIP).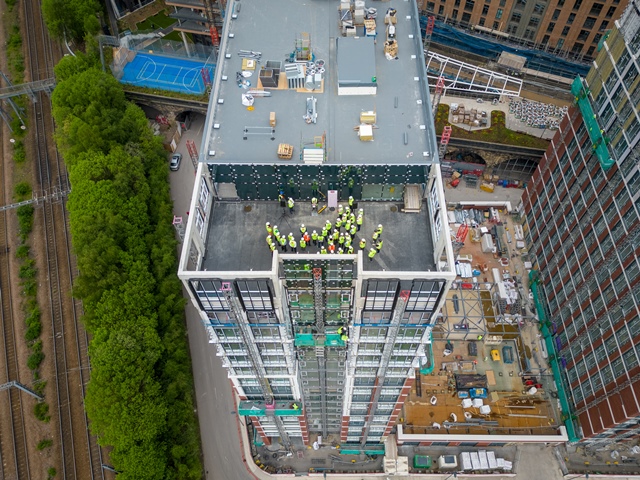 Alan Rodger, Managing Director, UK North, Sisk said: "We are delighted to make this vision become a reality for our client, HUB. Sisk is thrilled to have reached the milestone of topping out which supports the Leeds skyline expansion and next phase of flourishing BTR offering in the city. On behalf of Sisk, I would like to congratulate all of my colleagues and supply chain partners for their efforts in getting us to this stage."
Damien Sharkey, Managing Director, HUB said: "People and communities are at the heart of everything we do, and topping out brings us a step closer to realising the benefits this scheme will deliver for the local people of Leeds. In the context of the current housing crisis, this is an especially exciting milestone for Latitude Purple, which will provide the city with hundreds of much-needed homes when it completes in April next year."
Lord Mayor of Leeds, Bob Gettings said: "It was a pleasure to be invited by Sisk to attend the topping out ceremony and witness first-hand how well our city is flourishing and how our skyline continues to grow and change.  I was very impressed with the development – once finished it will bring high quality, well-connected homes, and community facilities to this increasingly vibrant area of Leeds."