An "unforgettable" Digital Construction Week welcomes a record number of attendees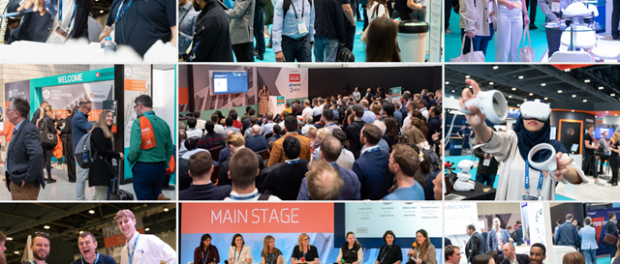 The UK's leading annual event for innovation in the built environment saw visitor numbers rocket. 
Held at ExCeL London from 17-18 May, Digital Construction Week showcased cutting-edge technologies, ground-breaking innovations, and a thought-provoking education programme.
With a 10% increase in attendee numbers, the packed-out event provided a platform for exchanging knowledge, fostering valuable connections, and delving into the latest emerging trends.
Gary Cowan, Head of Digital Construction at Kane Group comments on his visit:
"Digital Construction Week brings all the major movers and makers of the worldwide construction industry together under one roof, for knowledge sharing, networking, and an opportunity for everyone to grow off each other professionally. An essential event that should not be missed."
"The most dynamic event in the construction calendar" 
The successful show brought the built environment community from all parts of the world together, fostering collaboration and unlocking new opportunities for growth.
"DCW is by far the best UK conference for all things digital, information management using BIM & innovation," says Andy Boutle, Head of Digital Construction at ALEC.
Richard Saxon, Director of Services at Deploi echoed this, commenting: "This is the most dynamic event in the construction calendar: packed and impressive."
Also in agreement is James Browne, Managing Director at Holewise: "As a Contech start-up this is a must visit event. You get a chance to meet both customers, peers and thought leaders. I've been to three DCW's and they are getting better each year."
"Great to learn about the latest technology"  
The bustling show floor featured over 160 leading companies, start-ups, industry bodies and organisations at the forefront of digitising the built environment.
Attendees had the opportunity to experience live demonstrations of state-of-the-art technologies, including virtual and augmented reality (VR/AR), robotics, automation, UAVs, simulators, artificial intelligence (AI), drones, and 3D printing.
The leading equipment manufacturers, software companies and service providers that exhibited included Autodesk, Bluebeam, Causeway Technologies, Cintoo, Glider, HP, Kier Construction, Mission Room, MSite, Paperless Construction, PERI, Procore, Sir Robert McAlpine, Strata, thinkproject, TimelapseLAB, Willow, Xinaps, and YardLink.
Commenting on her visit, Cally Pettiford, a second-year student at the University of Derby studying BEng in Civil and Infrastructure Engineering, says "[it was] great to learn about the latest technology emerging in the industry, including AI for asset management solutions, plant simulators, VR, the latest on drone regulations and much more. Definitely keen to attend again in 2024!"
"Ground-breaking event" 
The immersive exhibition unveiled the next generation of solutions for the built environment, providing a glimpse into how these advancements are reshaping the AECO industry and revolutionising data-driven decision-making.
"Team viAct had an exhilarating time showcasing our AI Monitoring Solutions at DCW. Witnessing the industry's excitement as they experienced our technology first-hand was truly incredible," says viAct on their exhibiting experience.
Maciej Tomaszunas, Head of Business Development CEE at Semrén & Månsson International, and Alexandr Nikitin, CEO of TEBIN, "came back with a wealth of practical ideas, tips, and insights. They explored industry challenges and uncovered innovative solutions at this ground-breaking event."
"An unforgettable experience" 
The show didn't just result in happy attendees, but exhibitors too. Many were thrilled with the result of the show and praised the quality of visitors and strong leads over the two days.
"We are proud and happy to have been part of DCW, which was an unforgettable experience for us," share BIMCRONE.
GAMMA AR describe the show as "a whirlwind of knowledge sharing, networking, and collaboration, all focused on revolutionising the construction industry through digital innovation.
"The event provided us with an amazing platform to connect with industry leaders, exchange insights, and explore exciting partnership opportunities," they conclude.
The 2023 event marked the eighth edition that Ash Curzon, UK & Ireland Territory Manager at Revizto has attended. According to Mark it was the biggest he has seen yet: "More vendors, more people, the atmosphere's great and we're really happy to be here."
Payapps see DCW as an important event for the industry, commenting: "We believe that events like this are critical for driving the growth and technological evolution in construction, and we're excited to be part of the conversation. Thank you to everyone for making it such a success!"
"Seminars covered diverse topics led by expert speakers" 
The event also featured a CPD-accredited programme packed with 160+ hours of free-to-attend content delivered by 300+ expert speakers from across the built environment.
Visitors were spoilt for choice with ten theatres focused on some of the key areas shaping digital construction. These included information management, asset management, geospatial, visualisation, digital transformation, and Net Zero.
Speakers from Bryden Wood, Skanska, Laing O'Rourke, Restoration & Renewal (HoP), AECOM, John Lewis & Partners and Heathrow were just a few examples of big names who were part of the line-up.
Elaine Allen, Sales Director for the Built Environment at Microsoft, says, "the seminars covered diverse topics led by expert speakers."
Stewart Gorman, Clean Growth Built Environment Sector Manager at Department for Business & Trade, echoed this, saying: "The exhibition had a real buzz about it and the four seminars I attended were all very informative, helping me to better understand the UK capability around digital construction. The case studies also helped."
Paul Burnside, Tender Planning Manager at BAM Nuttall, was impressed with his first time visit to DCW, commenting: "I thought the seminars were fantastic, and really made me realise just how far the industry has come in the last couple of years."
On the other side of the coin, speakers also shared glowing reviews of their experience presenting at the show. Mar Zumaquero, Global Innovation Management Director at Arcadis, says, "you will leave with much more than you give."
She continues, "this is one of the greatest opportunities to inspire and connect with likeminded individuals with the goal to see a more innovative industry going forward."
John Adams, Head of Product at Glider, describes presenting at DCW as "a joy because there is always a great mix of knowledgeable industry heavyweights and newcomers in the audience every year.
"If you have something to share with those at the intersection between technology and the built environment, DCW is a great place to do it," he concludes.
Register now for Digital Construction Week 2024 
The resounding success of Digital Construction Week 2023 has set the stage for an even more extraordinary event next year, taking place at ExCeL London from 5-6 June 2024. Get ahead and register your interest by visiting: www.digitalconstructionweek.com/register-your-interest