Salford Quays' Newest BTR Scheme – Eda Tops Out Ahead Of Schedule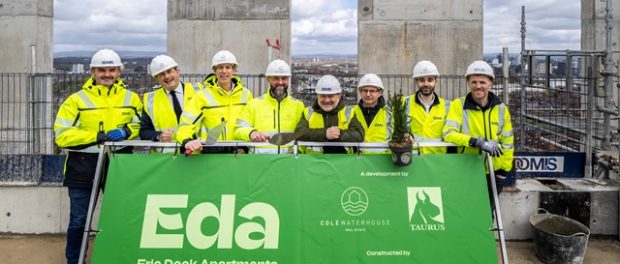 Cole Waterhouse and Taurus Investment Holding's 290 bed Build-to-Rent (BTR) scheme Erie Dock Apartments, or Eda for short, has topped out at Salford Quays twelve weeks ahead of schedule.
Contractor, Domis Construction, was joined by project team representatives to mark the milestone with a visit to the 29-storey building's highest point. The building is currently the highest residential tower in Media City and Salford Quays.
The BTR scheme was formerly known as Anchorage Gateway, is being delivered in a joint venture with Taurus Investment Holdings, LLC. The project is on track for practical completion in Q3 2023.
Built by Domis Construction and designed by Chapman Taylor architects, Eda is a 250,640 sq ft, L-shaped residential building comprising one, two and three-bedroom apartments which will be available for rent later this year.
Commenting on the topping out and launch of the distinctive Eda brand Simon Gallanders, Managing Director of Cole Waterhouse Residential said: "The Domis team has done a superb job to achieve topping out so early in the build programme and to be able to celebrate that milestone with the soft launch of the Eda brand makes this a special occasion for the team. Eda is Cole Waterhouse and Taurus' first joint BTR targeted development in the UK and it was great to be able to celebrate topping out with them prior to the Easter break."
He continued: "Working closely with Domis to deliver the building safely, on time and to budget is of course the first step. The next is to create a brand which appeals to an ever more sophisticated occupier market. We have been working closely with our designers Peter & Paul to create a standout brand which really appeals to potential residents."
"We are thrilled to have been able to partner with Cole Waterhouse on Taurus' re-entry project in the UK," said Nick Jacobs, Managing Director of Taurus UK. "Located in the heart of Salford Quays, Eda is the tallest tower in the area offering breath-taking views of the surrounding architecture. I am proud and thankful to the vision and incredible efforts of all our partners involved that have progressed Eda to the finish line ahead of schedule."
Eda's three show apartments, which have been designed by and furnished by Project FF&E are now finished and will be open for prospective tenants to view from June.
Eda residents will benefit from two landscaped terrace gardens on both the mezzanine and level 19 and the rooftop penthouse apartments will each have private terraces. At ground level the building will offer 4,000 sq ft of commercial space already pre-let to Co-op Food, as well as extensive areas of internal amenity including co-working space, residents' lounges, cinema room, bookable private dining & entertaining facilities along with a fully equipped gym managed by a dedicated on-site concierge and management team.
Commenting on behalf of Domis, Kingsley Thornton said: "Having worked previously with Cole Waterhouse in Salford at No1 Old Trafford we knew that Eda would be another high-quality development and we have maintained close collaboration to ensure it will be delivered on budget and hopefully ahead of schedule."
The Eda delivery team includes Jon Matthews Architects as delivery architect, WSP Planning, structural engineers Renaissance, M&E consultants Novo, landscape architects Exterior Architecture, project managers/quantity surveying services by Henry Riley, Project Four Safety Solutions providing CDM and Principal Designer services with legal advice from Ward Hadaway.