Safety Matting for your Construction Site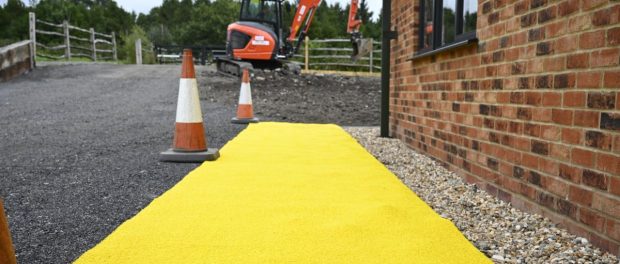 Construction sites are notoriously dangerous places, and one area often overlooked is the floor. Around a third of all workplace accidents yearly involve slips, trips and falls, which can often lead to severe injuries. First Mats have created a new range of specially designed floor matting to help eradicate this problem. The range includes various PVC and Rubber type matting for walkways, workstations, stairs and cable protection. These mats are designed to provide a high level of grip and traction, even in wet or muddy conditions, making them ideal for construction sites.
Safer Walkways
Walkway matting is one of the main focus areas for the new range, mainly due to the increased risk of accidents between pedestrians and vehicles. The most recent walkway matting addition to the range is a Spaghetti mat made from tightly woven PVC fibres that form a soft but durable matting. The open spaces between the fibres allow water to drain away, ensuring the mat provides a grippy surface in all weather. Walkway matting is also available in high-visibility yellow or red options, making it easier for pedestrians and vehicle operators to avoid potential hazards.
Improving Grip on Slippery Floors
Traditional rubber mats are an excellent option for workstations, as they provide a comfortable surface with a better grip that helps to prevent slips and falls. PVC Duckboard is another option that is resistant to corrosion, oils and most chemicals. GRP stair treads and nosing are also included in the new range for the ultimate grip on floor surfaces. These products feature a coarse, sandpaper-like texture that provides traction underfoot, even in frosty weather. The tread and nosing products can be ordered in various colour and size options, ensuring they fit well for any premises.
Mats for Better Cleanliness
Tacky mats keep dust and other fine particles from being tracked into a clean area. They are often used in doorways to hygiene-sensitive areas, such as hospitals. The tacky mat has a sticky surface that picks up dust and other small particles from shoes. When the surface of the adhesive mat becomes too dirty, the top layer can be peeled away to reveal a fresh, new tacky layer underneath.


For more information or to see the Construction Site Matting range, visit the First Mats website: