Railway Industry Association wins best trade body award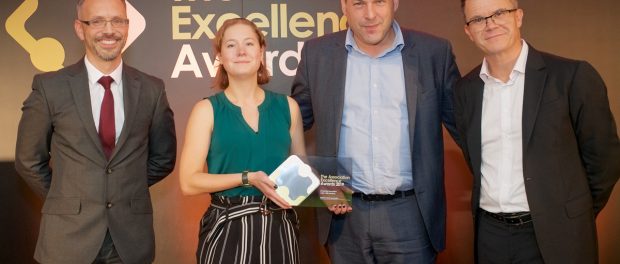 The Railway Industry Association (RIA), the voice of the UK rail supply community, took the top 'Best Overall Association' award at the Association Excellence Annual Awards ceremony on Friday 11 October.
The reasons given for RIA winning the award were:
Focusing on delivering for members and on building a bigger and better rail supply industry;
Providing a welcoming environment for staff and members, where new ideas and inventive solutions are encouraged;
Developing as a voice for the rail industry to senior political and stakeholder groups with lobbying campaigns and complementary media engagement; and
Increasing profile – focusing on the railway industry's issues of the day – to ensure the rail supply chain is heard, at a time when key decisions about the future of the sector are being made.
Darren Caplan, Chief Executive of the Railway Industry Association, said: "It is great that the Railway Industry Association and its members are being recognised by peers in other sectors in this way, and we are excited to win this award for excellence, our third in two years.
"At a time when much reporting on rail focuses on negativity and controversy, the RIA team and its members are working incredibly hard to overcome the challenges – boom and bust in infrastructure and rolling stock investment, lack of an enhancements pipeline, and a political arena dominated by structural change and Brexit – and promote the positives, with the railway industry generating 600,000 jobs, £36bn GVA and fostering rail innovation, for the ultimate benefit of UK plc.
"So we think this award reflects positively not just on the team at RIA but also on the whole railway industry. A big thank you to Team RIA and, of course, the efforts of our fantastic membership, without whom this award would not be possible!".
Some of the RIA team with the Association Excellence Best Overall Association Award