Primary Concrete Build Now Complete at Everton Stadium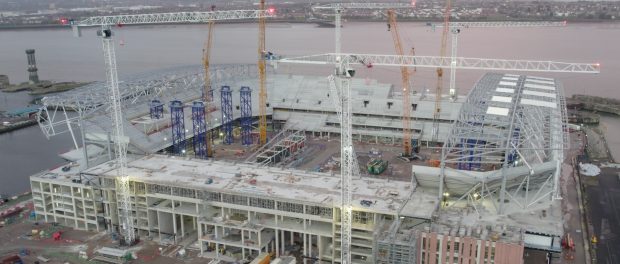 The primary concrete structure in all four stands at Everton Stadium is now complete. The final roof slab was poured this week on top of the east stand, marking another major milestone in the development. Work on both the east and west stands now turns towards completing the upper bowl of the stadium.
The progress of this is already clearly visible in the west stand, where upper tier steelwork on top of the concrete structure has led to the ongoing installation of terracing units and a retaining wall to the rear. The east stand will soon begin to mirror that pattern, with the steel raker beams next to be installed ahead of the terracing. Roofing work on the west stand is due to commence in late April, or early May, while the first of the three planned lifts that will lead to the final, full-span roof truss in the south stand should take place this coming week, weather permitting.
Meanwhile, another major change will see the first of the four tower cranes – in the south west corner – dismantled in the next few days. The cranes, ranging from 60m-80m high, were initially installed during June of 2022, to help pull together the steel structure that forms the skeleton of the new 52,888-seater stadium. With that now in place, the heavy lifting work is nearing completion, leading to a planned programme of removal.
Externally, excavations have also begun, at ground level, in the space between the east stand and Hydraulic Tower, for the installation of two giant underground tanks which will be used to harvest rainwater. Sheet piling is being driven into the ground, which will create a working space to eventually house the subterranean tanks, which will sustainably collect rainwater to be used across the stadium, for example in flushing toilets.
On the Western Terrace, work is also continuing to develop the outside area for broadcasters, along with the installation of an electricity sub-station to serve the stadium.