Michael Gove visits Greencore's multi-award winning Springfield Meadows in Oxfordshire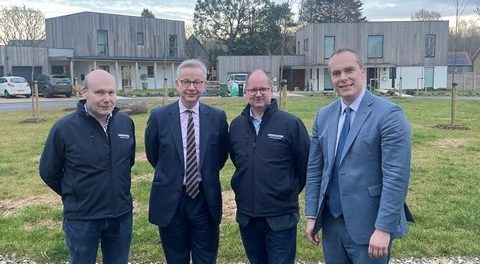 Michael Gove, Secretary of State for Levelling Up, Housing and Communities visited the multi-award winning development Springfield Meadows, in Southmoor, Oxfordshire last week. He was joined by the local MP, David Johnston. The development of 25 climate positive homes, is built to be better than net-zero in terms of embodied carbon and aims to be net-zero energy in use.
Michael Gove said "We want beautiful, well designed, and greener neighbourhoods and the community I've seen in Springfield Meadows is something we wish to replicate right across the country. By modernising the planning system, our reforms will create more places people are proud to call home."
Greencore has aggressive growth plans and aims to deliver at least 10,000 climate positive homes by 2035.
In early 2022, M&G's Catalyst team, which is investing up to £5 billion into innovative privately-owned businesses working to create a more sustainable world, acquired a majority stake in Greencore. At the time,  M&G's real estate investment team announced its intention to invest up to £500 million into new sustainable private rental and affordable shared ownership housing developments in partnership with Greencore.
Jon Di-Stefano, Greencore's CEO, said, "We were delighted to welcome both Michael Gove and David Johnston to our Springfield Meadows development. It's exceptionally pleasing to have the government taking such a keen interest in our climate positive homes. The structure of a typical Greencore home is better than net zero in terms of embodied carbon, they are also highly energy efficient and can generate more energy than they use.