Phoenix Brickwork grows its team as major wins continue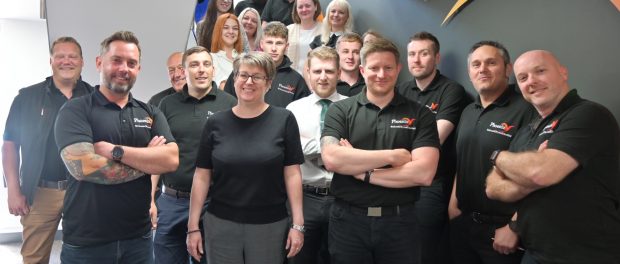 Derbyshire brickwork, scaffolding and drywall business, Phoenix Brickwork, is celebrating continued growth and expansion after announcing a raft of new staff appointments as well as two major business wins.
The national company, headquartered in Pinxton, reports a 44 per cent increase in staffing levels this year – including the appointment of 17 new young apprentices. It has also secured work on two exciting new projects across the Midlands.
In July, Phoenix Brickwork will design and install a bespoke steel framing system and external sheathing boards at a 700-bed student accommodation in Nottingham. The new block is scheduled to be open in time for the 2023/24 academic year.
The second project, which also starts soon, will involve completing the brickwork facing as well as shot-blasted brickwork to Lincoln St Christopher's Primary School. The work is designed to improve the provision of its special needs and disability education and is part of an £85 million nation-wide investment.
New starter Greg Morton joined Phoenix as a buyer in January. He is based at the Pinxton office and is loving his new job.
He said: "Although I have only been part of Phoenix for a short time, I have felt like a valued member of the team since day one.
"The atmosphere in the office is fantastic and I've never struggled to find someone willing to help me while I've been learning the ropes.
"I feel like it is an exciting time to be part of the company as it continues to grow and expand. Personally, I am keen to see how I can develop my career here and feel confident that my team and I will progress alongside Phoenix."
As well as 62 staff working from the Pinxton and Northampton offices, Phoenix Brickwork is also supported by over 300 subcontractors who deliver a high calibre of service.
Christian Watson, group chairman and founder of Phoenix Brickwork, said he was proud of his team and the business they have helped him to build and develop; "I regularly remind our growing team that Phoenix would not be where it is today without each, and every single member of its team.
"From the labourers loading out the bricks and our new apprentices, to office staff and managers, we all have a crucial role to play in the business. Our loyal teams of over 300 subcontractors also play a key part in Phoenix's success.
"Today, I want to take this opportunity to publicly thank everyone for their continued hard work, loyalty, and effort.
"We're #teamphoenix and we're smashing it."