Land & Water group announces new five year plan to lead it to carbon net zero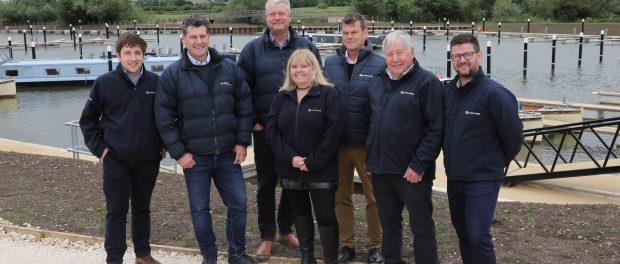 Leading wet civil engineering firm Land & Water Group has announced a new five year plan that will not only support it on its carbon net zero journey but will futureproof the company as it continues to grow and thrive as a responsible and sustainable business.
From this month, Land & Water Group will be operating a new Board structure to strengthen it for future growth. This includes welcoming Kevin Kirkland to the Group Board as Managing Director for Land & Water Services, after having been Construction Director for the past five years. Adrian Gascoyne will move to Group Commercial Director, overseeing all Group Commercial Activity whilst Tom Melhuish will join as Director for Land & Water Remediation.
Richard Melhuish and James Maclean will remain as Chairman and CEO of the Board as well as the custodians of Land & Water's core values, behaviours and corporate environmental and social governance.
Over the next five years, Land & Water will continue to innovate and collaborate, strengthening its position as a leader within the construction sector and ensuring its people are at the core of its success.​
CEO, James Maclean, says: "Richard and I are delighted with the new appointments which forms a further step in the preparation of our business for sustainable growth with a great team of motivated, agile and innovative individuals. We are in an incredibly exciting space and we have made this move to make sure that the business has the human infrastructure in place in our race to net zero, nature's recovery and the correct governance to hold our core values."
This new Board structure comes at a time when Land & Water Group announces new ventures and exciting changes to the business. Having just experienced its best year to date with sales close to £48 million, in the next 12 months Land & Water will be adding two new business arms including entering into a recycled aggregates business and Earth Change Ltd, a joint venture between Land & Water and LC Energy Ltd. Earth Change Ltd will address the climate emergency through recharging and restoring failing saltmarshes, diverting dredged materials from sea dumping operations and providing new habitats to trade for biodiversity net gain. Land & Water will be conducting full-scale trials in Chichester and Lymington Harbour for its saltmarsh regeneration in late 2022, early 2023.
Adrian Gascoyne, Group Commercial Director, says: "This is an incredibly exciting time for Land & Water and myself personally. The changes to the Board ensure we are securing the Groups future for years to come. As I move from Managing Director of Land & Water Services to Group Commercial Director, I have no doubt that Kevin is the right person to continue taking the business division from strength to strength."
Adrian will also be acting as Project Sponsor for Land & Water's Kings Bromley Development which is a brand new office space and yard for all Group employees dedicated to each arm of the business. The vision for the site, which is currently under construction, is to meet sustainability goals for the future in terms of energy, site use, carbon footprint and performance for the people and the planet.
Tom Melhuish, Director of Land & Water Remediation comments: "I am extremely excited by the opportunities developing for both Land & Water Remediation and the Group as a whole. The work we undertake – creating new habitats, re-using and recycling materials and using water as an alternative means of transporting materials have sprung into relevance over the past couple of years and we are well positioned for the future. We have some very exciting projects in the pipeline and I am really looking forward to being a part of them."
Land & Water has also delivered some exceptional projects over the past couple of months and continued to work towards its objective of being the UK's leading dredging and wet civil engineering contractor. After having invested in a new regional hub in Newcastle upon Tyne, Land & Water secured a multi-million pound infrastructure contract with PD Ports to upgrade Teesport Ro-Ro Number Two.
It has also just completed fish pass construction works on one of the largest river restoration projects of its kind in Europe. The engineering firm has also opened its brand new 250 berth Shakespeare Marina in Stratford-upon-Avon, which marks its sixth marina constructed and developed alongside Geomac Ltd. The marina, which is situated on the River Avon with access to some spectacular cruising routes, will also be home to a floating staycation for Land & Water employees to enjoy mini breaks at no additional cost to them. This is part of the Group's commitment towards the wellbeing of its team.
Kevin Kirkland, Managing Director of Land & Water Services says, "I am delighted to be taking on my new role as Managing Director, over the past few years we have positioned ourselves as a leading dredging, wet civils and environmental contractor. Our focus will continue to be an innovative and collaborative contractor working with our clients to deliver the best possible outcome. Our greatest asset remains our people and I am excited about leading a great team".