Painting & Decorating Apprentice Plays U19s Women's Rugby League for England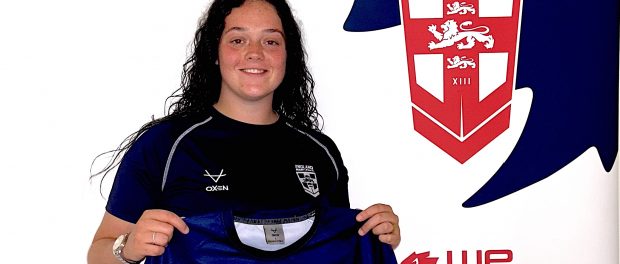 A Leeds College of Building apprentice has played for her country after being selected for the U19s England Diploma in Sporting Excellence (DiSE) Women's Rugby League squad.
Ellie-Mae Wainhouse (18), a Painting & Decorating apprentice employed by G.Swailes in Leeds, made her international debut after playing against Catalans Dragons in Perpignan, France. The team returned victorious after an impressive 76-0 win.
DiSE is the first step on the England Performance Pathway, a national programme for Year 12 and 13 girls who have the potential to play at the highest level of the game – representing England Rugby League with either the Knights or the Women's senior team.
Recent notable graduates include Leeds Rhinos Keara Bennett and St Helens Eboni Partington, who have both featured heavily for club and country since completing the pathway.
Martin Parr, a Leeds College of Building Lecturer in Painting & Decorating, said:
"We couldn't be more thrilled about Ellie-Mae's selection for the match. We were all behind her and her performance showed what an emerging young talent she is, especially given the competition for places in the squad. It really was an amazing achievement, and we know Ellie-Mae will go on to achieve even greater things – both at college and in rugby league – given her hard work and dedication."
The squad of 19, drawn from seven Women's Super League clubs and two from the community game, travelled to France for the fixture at Saint Esteve Stadium. The match gave the promising young players their first experience of international Rugby League.
Ellie-Mae was one of three Featherstone Rovers players selected. On returning to the UK to continue the second year of her apprenticeship training, Ellie-Mae said:
"I was absolutely chuffed to be selected for the England squad. Knowing you're among the women's U19s top rugby league talent is a great feeling. This was a one-time opportunity to be seen by the women's head coach in an international game."
Ellie-Mae's success in the sport should come as no surprise. Her father and uncle both played rugby league at a high level, and her brother, Cobie Wainhouse, was recently recruited by Hull FC as a prop forward from Bradford Bulls' junior ranks ahead of the 2023 Academy Championship campaign.
Ellie-Mae continued:
"Rugby league really is in our blood! Balancing my painting and decorating work, college training, and more than 12 hours of training and matches is a tough challenge, but I'm determined and will keep playing to the best of my abilities. To get paid to play rugby as a career would be a dream come true!"
DiSE is a 'dual career' performance programme which combines education and elite rugby development. Players receive high-level training delivered on a camp basis by the England Performance Unit with Stuart Barrow, England Women's Head Coach, closely monitoring their development throughout their journey.
Rugby Football League DiSE Manager, Conor Meese, said:
"The DiSE Class of 21' have really impressed all of us involved with the programme […] The trip should provide all the players with invaluable experience, and we hope that it gives them a taste of what it could be like should they progress to representing England on the international stage."