The Harborne Hospital Celebrates Practical Completion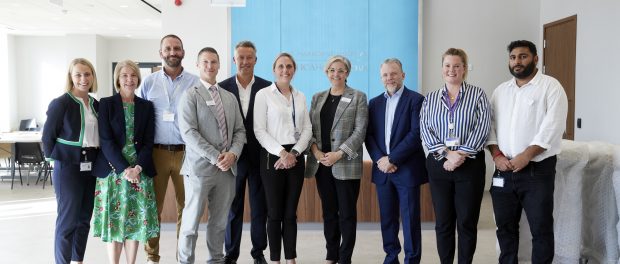 A milestone moment has been reached in the Midlands as £100m building work on The Harborne Hospital, part of HCA Healthcare UK has completed.
Opening its doors to patients in early January 2024, the 50-inpatient bed, 4 theatre Hospital will provide a depth and breadth of independent healthcare not currently available in the region, including in specialties such as cancer, cardiac and orthopedics and across inpatient, outpatient and diagnostic care.
While HCA Healthcare UK will be providing private patient care, The Harborne Hospital is a partnership with the University Hospitals Birmingham NHS Foundation Trust which will manage their own 2 dedicated floors, in The Harborne Hospital including 72 inpatient beds for the care of NHS patients.
The power of synergy: A Prime example
Specialist health and care property developer Prime plc played a pivotal role in developing the hospital, knitting together the skills and aspirations of all the teams involved including HCA UKM&G Investments, which funded construction of the 14,728sqm hospital and builders, VINCI Building.
The Harborne Hospital stands as a testament to the power of synergy, showcasing how collaboration serves as a true example of innovation, expertise and accessibility, enriching the healthcare experience for all.
Claire Smith, CEO of The Harborne Hospital and VP of HCA Healthcare UK NHS Joint Ventures, said:

"It's been a huge collaborative effort to get to this milestone moment and I want to thank everybody involved for their dedication to this innovative project.

"For HCA Healthcare UK work only continues now, and at pace, to ensure that come January this impressive building is an even more impressive hospital, equipped with the state-of-the-art facilities, with teams of skilled medical professionals and the leading consultants that will make The Harborne Hospital the destination for high quality private care in the region."

Leighton Chumbley, Chief Executive at Prime, said:

"We're thrilled to see the completion of The Harborne Hospital. This has involved considerable effort and investment, with most of the key partners being involved over the seven-year period from inception to completion.

"The investment has come from the organisations but, more importantly, the individuals. All those at Prime involved at the start and through to completion will celebrate this occasion and, in the process, they have gained incredible technical, financial and commercial knowledge. To a developer this is priceless.

"I want to thank everyone involved in this state-of-the-art facility – the most technically advanced private hospital that's been constructed outside of London. It is incredible to see our vision become a reality."
Julian Miller, Chief Financial Officer at University Hospitals Birmingham NHS Foundation Trust, said:

"The Harborne Hospital provides the people of Birmingham and Solihull further capacity and greater access to outstanding NHS care, in world-class facilities, delivered by leading NHS specialists.

"This is a partnership of which we are proud; 72 additional NHS beds will support the exceptional demand we are seeing to treat more local people, support our mission to widen access to healthcare, and help cut waiting lists."

Peter Manners-Smith, Fund Manager, M&G Real Estate, said:

"This project is an excellent example of how private sector capital can be used to build exemplar facilities which support the NHS and improve health outcomes – we are delighted to have reached this milestone.

"By financing the construction through long-term leases, we have also been able to generate sustainable long-term returns for our investors and benefit retirement savers."