One Stop Hire partners with easyHire to launch easyToolhire North East and North West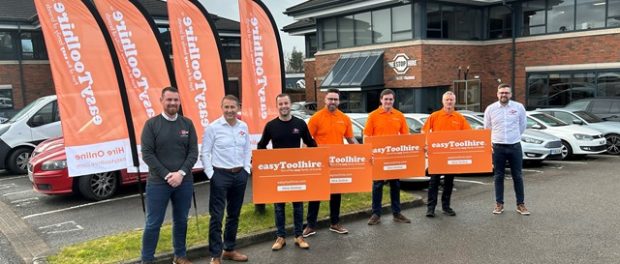 One Stop Hire, an independent and family-run tool hire and safety training business operating with more than 20 depots and training centres in North West and North East England, has chosen to invest in its future by signing a large partnership agreement with easyHire Technologies, which is backed by Sir Stelios Haji-Ioannou, founder of easyJet.
One Stop Hire has partnered with easyHire Technologies (formerly Rentuu and trading as easyHire), a leading technology provider for the tool hire industry, and purchased the exclusive branding rights to easyToolhire North West and easyToolhire North East.
One Stop Hire is a large-scale hirer of power tools, access systems, and small plant machinery in the North East and North West of England after acquiring both SJS Hire Tools and PSL Hire in 2009. It is also a PASMA, IPAF, and CITB-approved training provider and offers a wide variety of training including emergency first aid at work, asbestos, manual handling, and abrasive wheels.
The new and exciting partnership means that customers can expect the same personal levels of service and local knowledge that they have come to expect from One Stop Hire, but easyToolhire North East and easyToolhire North West will also give provide customers with a simpler ordering process and the ability to hire tools and equipment at the touch of a button.
Like easyJet, One Stop Hire has a large presence in the North East and North West of England. One Stop Hire's depots and training centres in Blackpool, Bolton, Liverpool, Manchester, Preston, Wigan, Cumbria, Wythenshawe, Trafford Park, Wirral, Newton-le-Willows, Sunderland, Alnwick, Blaydon, Blyth, Middlesbrough, Newcastle, and South Shields will be dual-branded. Customers will be able to identify easyToolhire's bright orange logo alongside One Stop Hire's own red, white, and black branding.
Complementing the easy family of brands and the distinct orange branding even further, easyToolhire North East and easyToolhire North West will deliver the same innovation in the tool hire space that customers have come to expect from easyJet's extensive presence in Liverpool, Manchester, and Newcastle.
Customers can expect the same easy online experience that they get when booking flights when they hire tools and equipment. All customers will have access to easy online ID verification, contactless delivery/collection, contactless payments, the ability to carbon offset their order at checkout, and no-fuss tool hire 24/7 at the click of a button. And with regular updates to the easyToolhire website, customers can expect great offers, new tools, and expert advice on a weekly basis.
Speaking on the new partnership agreement, Steve Hitchen, managing director of One Stop Hire, said:
"One Stop Hire has traditionally operated within the business-to-business (B2B) market because we did not have the expertise or experience to scope out opportunities within the business-to-consumer (B2C) and online markets. When easyToolhire came along and demonstrated its marketing ability, and we discovered that 95 per cent of the products hired by its clients were actually in our fleet, we began to look deeper into the proposal.

"In essence, all the obstacles we had around entering this new market were covered by easyToolhire. Actually, all we had to do was the 'easy' stuff, which includes our extensive portfolio of depots continuing to give customers good kit and quality service. The marriage of experts in e-commerce alongside experts in equipment rental was the perfect fit."
Dennis Helderman, director of easyHire Technologies, said:
"Our world-leading technology enables consumers, DIY enthusiasts, tradespeople, construction workers, and anyone working on everything from a landscaping project to a renovation job, and more, to find all their tool hire needs in one space. Moreover, they can hire the equipment from a brand that almost everyone recognises."
He continued:
"Our technology, which is simple for the customer to use, will enable Steven and his team to plan for the future and I am sure will transform tool and plant hire in the North East and North West of England."
Daniel Parker, easyToolhire's UK country manager, commented:
"We are delighted to be working with One Stop Hire and launching easyToolhire North West and easyToolhire North East.

"It's our mission is to make tool hire and plant and equipment rental easy. I am looking forward to working with Steven and his team to promote the easyToolhire brand. We want easyToolhire to be everyone's first port of call. I am sure that Steven's experience and our technology will create the perfect partnership and put easyToolhire on the map in the North West and North East of England."
Parker concluded:
"What's more, this is just the first of several exciting announcements to come from easyToolhire HQ so watch this space…"