Glencar announces completion of four-unit industrial development for St. Modwen Logistics in Newport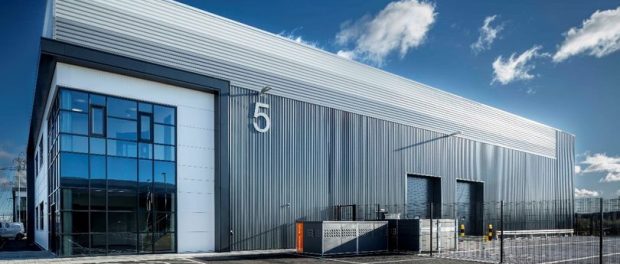 The new 116,000 sq. ft sustainable scheme which was developed speculatively is the third development to date to be recently delivered by Glencar for St. Modwen Logistics, with one unit of 17,000 sq. ft already pre-let.
Glencar, a leading UK construction company that was recently ranked amongst Europe's fastest growing businesses, has announced the completion of four new high quality, sustainable warehouses totalling 116,000 sq. ft for leading logistics developer and manager St. Modwen Logistics at its St Modwen Park multi-unit logistics and industrial development in Newport.
Developed in response to growing demand in the region to support business growth, one building totalling 17,000 sq. ft has been pre-let to adhesive manufacturer Ureka Global.
The units are all EPC A-rated and hold a BREEAM 'Very Good' accreditation, helping potential occupiers to meet their own ESG targets and reduce energy usage through the inclusion of a range of energy-efficient features. Built in line with St. Modwen's 'Swan Standard' approach to sustainable construction, the buildings feature intelligent and sustainable LED lighting, smart metering and rainwater harvesting.
Air source heat pumps are used for heating the office elements of the warehouses and solar (PV) panels on the roofs provide a proportion of the power for each unit, as well as encouraging greener ways of commuting through the inclusion on EV charging points and dedicated cycling routes.
Commenting on the project Pete Goodman, Glencar Managing Director Midlands and North said:
"St. Modwen Park Newport is the third development we have delivered to date for St. Modwen Logistics recently and a sign of our expanding relationship.  Whether it is for a speculative development or built to suit requirement our teams and expertise is unrivalled in the Logistics & Industrial space and we are delighted to have delivered again to a high standard.

Over the past 12 months Glencar has built and delivered over 400,000 sq. ft of Grade A industrial and logistics space for St. Modwen Logistics and its clients as it continues its rapid expansion in the South West demonstrating its commitment to helping customers to scale into big box warehouse space and supporting job creation and economic growth across the region"
Mark Snow, Senior Development Director, at St. Modwen Logistics, commented:
"St. Modwen Park Newport is located in Wales' fastest-growing city, with nearly half a million economically active people within 30 minutes' drive time, which underpinned our decision to bring these units forward speculatively. The park is already home to a number of leading business and a range of warehouse uses, and the addition of over 100,000 sq. ft of modern logistics space will provide opportunities for companies to expand and grow, and support a diverse mix of employment.

We are delighted to have partnered once again with Glencar to construct these units and they have done an incredible job.  The units look immaculate with the rich array of sustainable features impressive to see in action.  We look forward to working with them on the next project and continuing to expand our relationship".
St. Modwen Park Newport is strategically located to provide excellent connectivity to South Wales and South West England, with Junction 23A of the M4 motorway within two miles of the park via Queen's Way, and Cardiff and Bristol reachable within 12 miles and 30 miles respectively. The estate and surrounding area benefit from the de-tolling of the Severn Bridges, further enhancing its accessibility by road.
The delivery of these warehouses takes St. Modwen Park Newport to c.345,000 sq. ft of warehouse space and is already home to the likes of Amazon, Genpower, CAF and Mitel. Phase 4, which comprises an additional 263,000 sq. ft of best-in-class logistics space, is due to complete in Summer 2023.