New data reveals half of construction workers feel lonely at work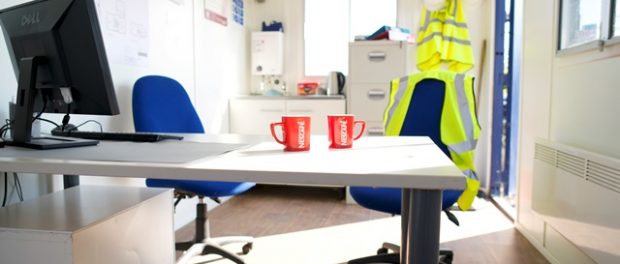 New data launched today reveals that half (47%) of construction workers in the UK feel lonely in the workplace.
The findings, conducted by NESCAFÉ as part of the 'Make Chat Work' campaign, are announced amidst recent concerns around wellbeing in the construction industry – with a report from the All-Party Parliamentary Group (APPG) on Issues Affecting Men and Boys recommending more stringent mental health provisions should be written into construction contracts.
The 'Make Chat Work' campaign by NESCAFÉ aims to help businesses create a culture that nurtures their employees' wellbeing through encouraging interactions, connections and engagement between workers.
Further insights from the research reveals that eight out of ten (79%) of construction workers agree that having opportunities to talk to colleagues around coffee breaks would make them feel less lonely. In addition, nearly all (99%) of respondents said that getting together for a coffee break is important for team morale and 94% look forward to a coffee break with colleagues.
Nadia Roberts, Brand Manager at NESCAFÉ at Nestlé Professional, said:
"Our research shows that coffee breaks at work aren't just a 'nice to have' but are an important part of the day for employees – particularly for those that are experiencing feelings of loneliness. Breaks give workers time that's been specifically carved out to connect, talk and engage with each other and an opportunity to take time out and switch off from the day-to-day pressures – important for workers in any business, but particularly a sector like construction, and the related trades such as plumbers, carpenters and electricians, which are typically male-dominated."
The Make Chat Work campaign sees NESCAFÉ partner with the Federation of Small Businesses (FSB), which represents 160,000 small business owners in the UK, as well as construction industry bodies the Federation of Master Builders (FMB) and the Construction Industry Council (CIC), to deliver insights, webinars, information and assets to help small businesses improve workplace wellbeing.
There are also various tools, for employers looking to support workplace wellbeing, that are free for businesses to download. This includes a Make Chat Work Guide packed full of insights, knowledge and practical tips on how to make the most of the coffee break in the workplace. There are also printable assets to display in the office including a 'NESCAFÉ Your Way' sheet to note how colleagues like to take their hot drinks and 'Icebreaker' and 'Conversation Starter' suggestions, designed to help ignite chat and interaction with co-workers.
Brian Berry, Chief Executive of the Federation of Master Builders (FMB) said:
"Mental health is a top priority for the FMB so our partnership with NESCAFÉ is another great way to highlight workplace wellbeing. Builders face many pressures in their day-to-day lives and it's great that many FMB members share their own mental health challenges to help others. The FMB has also partnered with the Lighthouse Club as our charity partner to ensure mental health awareness is front and centre in the construction sector."
Caroline Lavelle, Chief Commercial Officer at FSB, said:
"Workplace wellbeing is incredibly relevant and important to our vast small business community. We like to provide our members with knowledge and tools that enable them to run their business better; and the Make Chat Work campaign does just that."
CIC Chief Executive Graham Watts, said: "CIC promotes expertise and knowledge on topics that are of collective interest to the construction sector and wellbeing is a topic that impacts everyone in the industry. We are pleased to partner with NESCAFÉ to cover this crucial subject and help share insights which could benefit the whole of the industry."
Through the partnership with the CIC, NESCAFÉ will be making a donation to construction industry charity The Lighthouse Club.
Bill Hill, CEO at the Lighthouse Club charity, which provides financial and emotional support to the construction community and their families, said:
"Experiencing poor wellbeing is an everyday reality for thousands of construction workers. Stress, anxiety and depression accounts for a fifth of all work-related illnesses and every single working day in the UK, two construction workers take their own life. We welcome campaigns like Make Chat Work – it's an opportunity to ignite conversation around workplace wellbeing and brings to life the importance of workers in the sector talking more."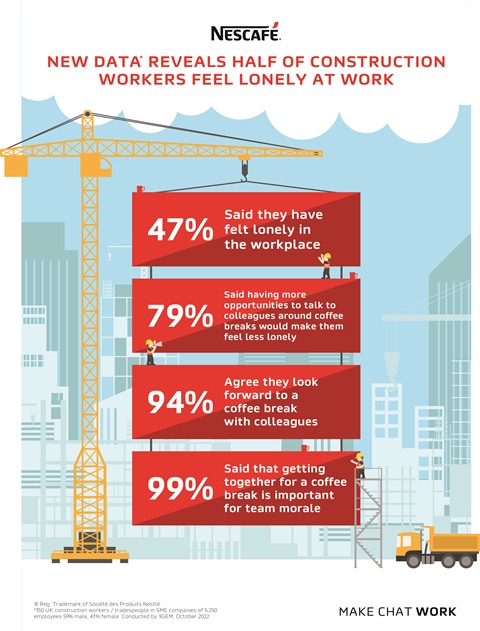 For further information on the NESCAFÉ Make Chat Work campaign or to download the free Make Chat Work Guide visit https://www.nestleprofessional.co.uk/your-business/small-medium-workplace/make-chat-work