Multi-Million Pound Government Project Underway on Suffolk Mildenhall Hub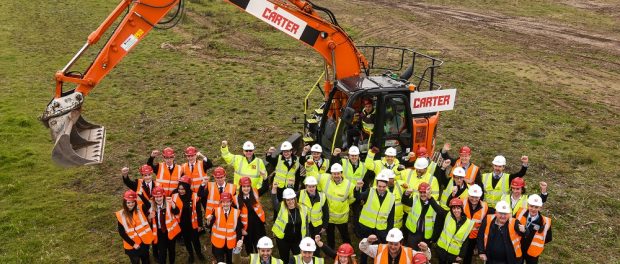 R G Carter was awarded the £39 million building contract earlier this year for the new Mildenhall Hub, with work due to commence on 18th March 2019.
To the benefit of the public, the major new development will deliver much needed facilities for the region. This includes a bigger and better school, leisure facilities, swimming pool, health centre, children's centre, public library, Job Centre, Citizen's Advice Bureau as well space for Suffolk Police, West Suffolk Council and Suffolk County Council.
James Wilson, Director and General Manager at R G Carter said: "We are delighted to be delivering this innovative project. It's great to be able to provide local communities with a new purpose-built environment, which matches the council's vision for the very best services and support across the region."
The Mildenhall Hub will integrate community and public services and is recognised as a significant project for One Public Estate, an established Government programme dedicated to transforming local communities and public services.
MP for West Suffolk and Health Secretary Matt Hancock adds, "I'm delighted that construction of the Mildenhall Hub, recognised by the Government as a major national project to bring education, leisure, health and local services together, is underway. It represents a new and better way of delivering integrated accessible services for communities and I can't wait to see the Hub open and in use next year."
Cllr James Waters, Leader of Forest Heath District Council said: "The Hub represents a unique and wonderful opportunity not just for education, leisure and health but for better collaboration between all public services. It's the blueprint for the future and I can't wait to see it up and running."
Various partners have come together to deliver on this ambitious project with funding coming from Forest Heath District Council, Department for Education, Suffolk County Council, Academy Transformation Trust, Sport England and Suffolk Police.
Each partner has a stake in the Mildenhall Hub and aim to benefit people across the region in their respective sectors, from health and fitness to childcare, education and the offer of support and professional advice.